Driving research and awareness of pulmonary fibrosis: Pulmonary Fibrosis Foundation is leading the path to a cure
Sep 1, 2020 by

American Journal of Physiology | Lung Cellular and Molecular Physiology
INTRODUCTION
Each September, more than 200,000 Americans living with pulmonary fibrosis (PF) unite in elevating the disease profile during Pulmonary Fibrosis Awareness Month. Pulmonary fibrosis is a devastating group of lung diseases with no known cure, which has increased in prevalence over the past several decades (2–6). While the diseases remain largely unknown, the Pulmonary Fibrosis Foundation (PFF) is driving research and awareness to speed the path to a cure.
This year, the PFF honors its heroes in celebration of our 20th anniversary as the nation's leading pulmonary fibrosis research and patient advocacy organization. Individuals battling this disease are indeed heroes, as are their caregivers, families, physicians and care teams, and the scientists working on improved therapies and treatments.
PULMONARY FIBROSIS AWARENESS SURVEY FINDINGS
Awareness of pulmonary fibrosis is a major priority of the PFF. Many patients have never heard of the disease until they are diagnosed. In a first of its kind PF awareness survey conducted earlier this year, we found that a vast majority of Americans (86%) do not know the symptoms of pulmonary fibrosis (PF). These symptoms—persistent dry cough, shortness of breath and fatigue—are often associated with more common diseases, leading to misdiagnoses or later-stage diagnoses of PF (Figs. 1 and 2). Because of the progressive nature of PF, a delay in diagnosis may be associated with rapid mortality in some forms of the disease (1).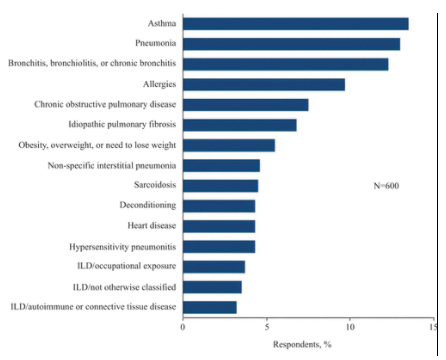 Additional findings from the survey include:
Of those aged 60 and over, 91% do not know the symptoms of PF and 96% have never talked to their doctor about PF.

Among those who currently smoke or have smoked, more than 80% do not know the symptoms of PF, and only 9% have ever talked to their doctor about the disease.

Significantly, those with a history of smoking are three times more likely to have had PF or to have known someone affected by PF.
We are using these findings to inform our programs and awareness campaigns to identify individuals who could be impacted by the disease. Our goal is to improve understanding of PF to help drive earlier, accurate diagnoses and to educate patients on all their health care options.
EXPANDED CARE CENTERS AND RESEARCH INITIATIVES
In an effort to improve diagnosis and treatment for patients and the understanding of their loved ones, the PFF established a Care Center Network, which has expanded to 68 medical centers across the United States (Fig. 3). In addition to providing multidisciplinary expertise, many Care Center sites coordinate support groups for patients and caregivers. They also conduct important clinical research on therapies for interstitial lung disease.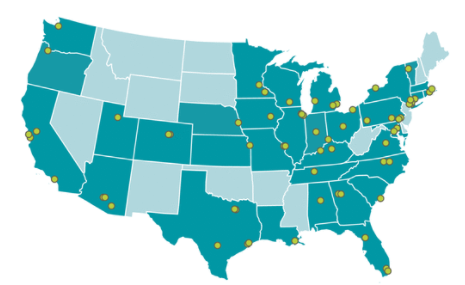 The PFF Patient Registry Serves as an Unparalleled Resource for Investigators
The Registry, which completed its first phase of enrollment in 2018, tracks deidentified data and blood samples of 2,000 patients from 42 Care Center Network sites nationwide (Fig. 4). More than 1,500 patients in the Registry have consented to be contacted for future research.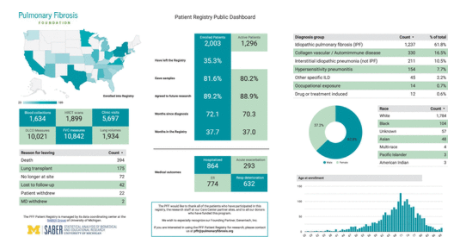 To date and at no cost to researchers, data from the Registry have been utilized in more than 23 abstracts and manuscripts. Our $2.5 million annual investment in the Registry has already yielded research projects valued at $31 million.
Registry samples will be used in the $22 million Prospective Treatment Efficacy in IPF Using Genotype for Nac Selection (PRECISIONS) Trial and Endophenotyping in Idiopathic Pulmonary Fibrosis and Interstitial Lung Diseases Study that aims to transform the diagnosis and treatment of idiopathic pulmonary fibrosis (IPF).
Funded by the National Institutes of Health and Three Lakes Foundation, PRECISIONS will define genetic and molecular signatures to distinguish IPF from non-IPF interstitial lung diseases. This approach will help identify individual diseases and predict disease course and response to therapy.
The next phase of the Registry will remove the geographic barriers that were present in its first phase and had prevented patients who live in remote areas from participating in clinical trials that require in-person visits. A virtual tool will enable enrollment from anywhere in the country to capture a wider range of data and patient experiences. Data will be shared with investigators in real-time. We will also expand enrollment to include caregivers, family members, and lung transplant recipients.
In a New Partnership With Industry, We Have Launched the Prolific Consortium to Identify 12 Biomarkers in IPF
Our goal is to develop well-qualified assays to detect important peripheral blood protein biomarkers in patients with pulmonary fibrosis. The assays will be used to uncover early indicators of a drug's activity.
The consortium selected 12 specific biomarkers related to known symptoms of IPF, including damage to the lining of the lungs, formation of excess fibrous tissue (fibrosis), inflammation, and the formation of blood clots (thrombosis). The 12 biomarkers were chosen based on published scientific studies that demonstrated that they may be useful in providing a prognosis for IPF, for predicting the effectiveness of medications in IPF patients, and for comparing biological responses with different treatments.
We are also investing in promising, early-stage researchers through our PFF Scholars program. Our support for these investigators is designed to help them obtain independent funding and continue their cutting-edge research.
PARTICIPATION IN CLINICAL TRIALS
We are empowering patients to participate in research through our Clinical Trial Education Center on our website, https://www.pulmonaryfibrosis.org. There, patients can use our Clinical Trial Finder to identify the latest information about trials underway. Users can easily search study opportunities by geography, disease/condition, intervention type, and more. Patients can use our Drug Development pipeline to search for treatment options currently in development for interstitial lung diseases.
CONCLUSIONS
The importance of lung health has never been more top-of-mind than it is today. With coronavirus disease 2019 (COVID-19) causing widespread devastation, the public consumes news of medical research on a daily basis.
The PFF has expanded its legislative advocacy efforts and has an ongoing presence in the nation's Capital. Our policy priorities include improved access to supplemental oxygen under the Medicare program and increased PF-related research funding at the National Institutes of Health and Department of Defense.
Together, we are building better tools and resources for people living with PF. More than ever, we need scientists and the medical community to unlock the cure for this debilitating disease. Join us and others across the globe as we envision a world without pulmonary fibrosis.
DISCLOSURES
No conflicts of interest, financial or otherwise, are declared by the author.
AUTHOR CONTRIBUTIONS
W.T.S. drafted manuscript; edited and revised manuscript; and approved final version of manuscript.
AUTHOR NOTES