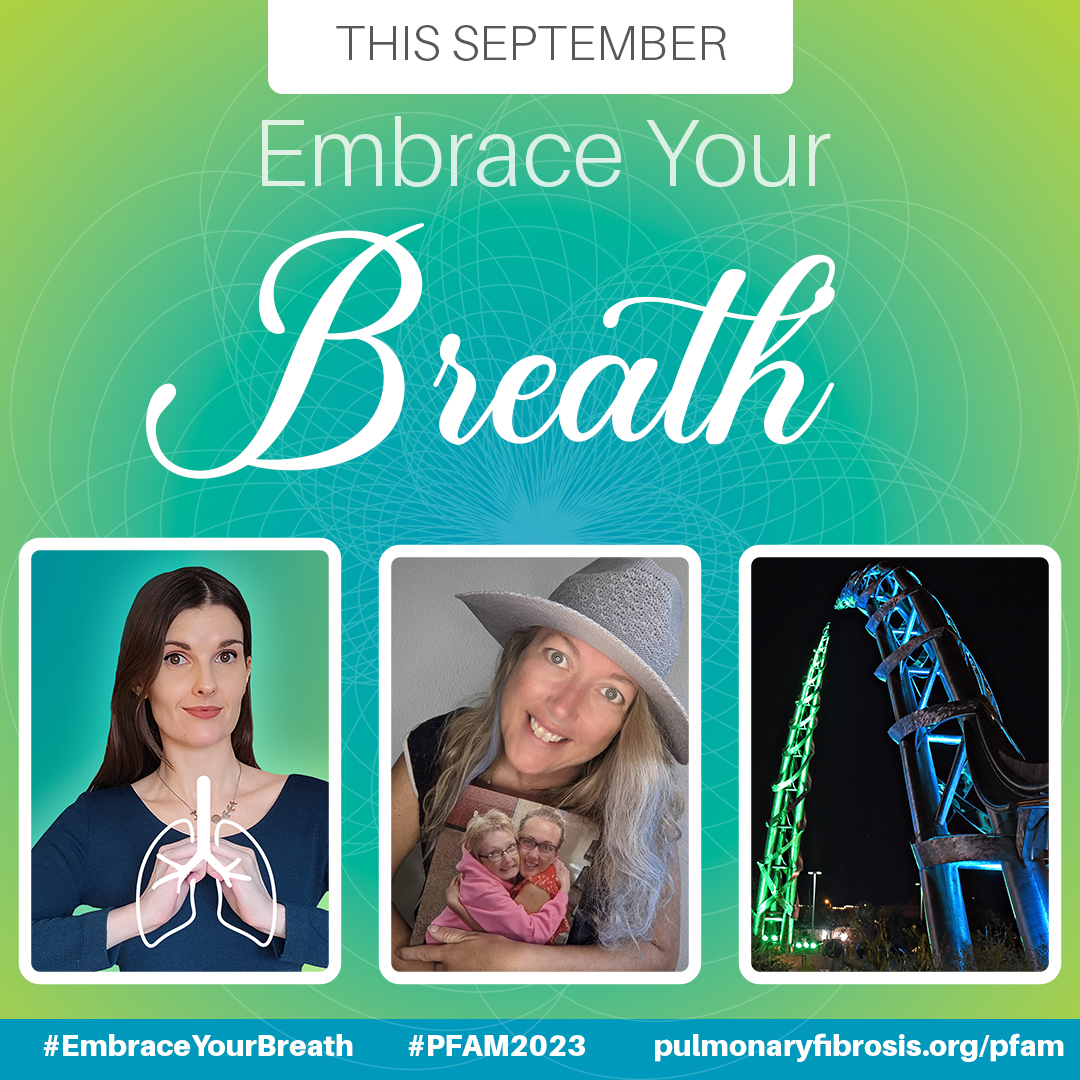 This September, #EmbraceYourBreath
Each September, join with those who have been impacted by pulmonary fibrosis worldwide to unite for Pulmonary Fibrosis Awareness Month (PFAM)! This year, the theme is "Embrace Your Breath" and we're showcasing how you, the pulmonary fibrosis community, stand together in the fight against this disease. This year is going to be bigger and better than ever and we want you to participate. And you can do it all right on social media!
Beginning September 1, the PFF will be posting content every day on social media. We need you to like, share, and comment on the content to help the messages reach a wider audience.

One of the first steps you can take is to follow and interact with us on our social media channels. Find us online with our handle @pfforg on Facebook, Twitter, Instagram, and YouTube, and use the hashtags #PFMonth and #BlueUp4PF to start getting social!
Join us this September as we stand together to raise awareness of pulmonary fibrosis.
Keep reading to learn about the different ways YOU can take action in September.
How to get involved
Participate in PFAM by joining us for as many activities as you can. Read more below!

Get informed: Follow the 30 Facts In 30 Days series
One of the best ways to spread awareness about pulmonary fibrosis is to educate others about the impact of this devastating disease. Beginning on September 1 and through September 30, we'll post one daily fact about pulmonary fibrosis on Facebook, Twitter, and Instagram. This campaign provides trusted, medically accurate facts about pulmonary fibrosis. A new fact is shared each day at 11:00 a.m. CT.

Help us spread the message far by liking, sharing, re-tweeting, and commenting on the 30 facts.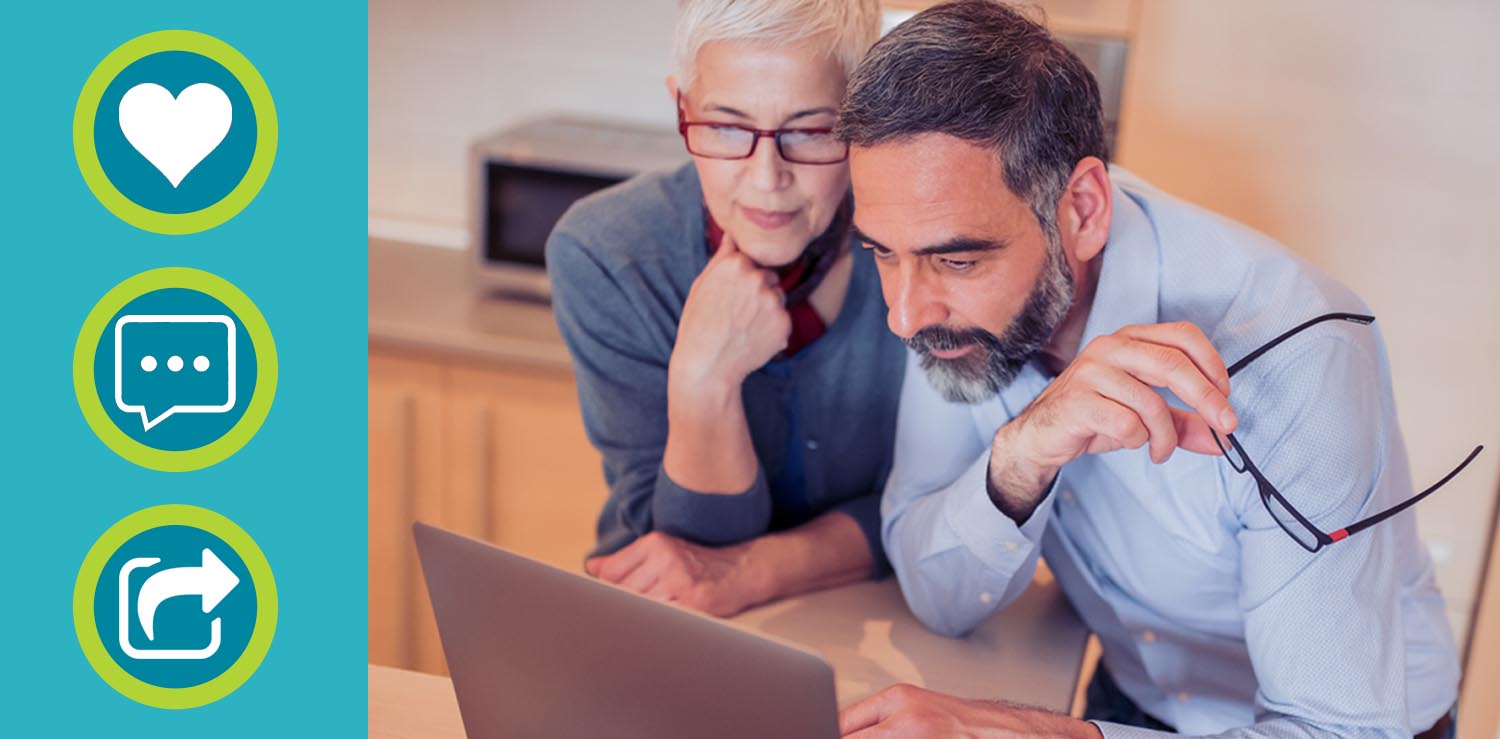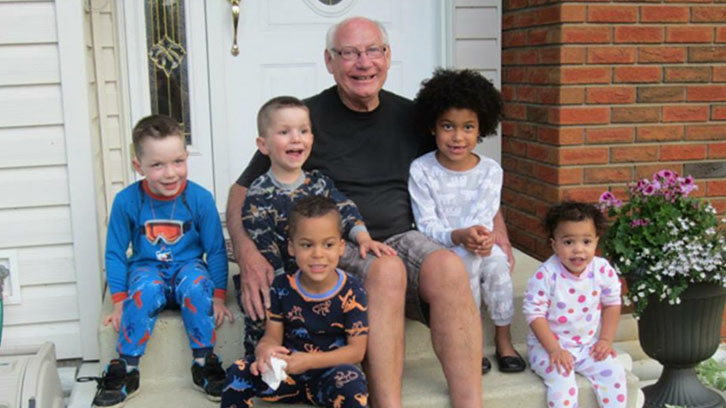 Share your story in the Portraits of PF series
Each day at 1:00 p.m. CT on Facebook, Instagram, and Twitter, the Foundation will post a written story and photo from people living with PF, caregivers, transplant recipients, those who have lost a loved one, and healthcare professionals as a part of the Portraits of PF series on Facebook. These heartfelt stories help others understand the many journeys people affected by PF have experienced.
Submissions are now closed for 2023. Thank you everyone who shared their story!

New! Strike the lung pose and send us your photo
New this year, we wanted you to strike a pose! We gathered photos of people in the PF community striking the lung pose. To make the pose, join your second knuckles together and place them over your chest. This symbolizes the lungs.
Submissions are now closed for the Lung Pose. Submissions will re-open in June 2024. We hope to see you strike the pose!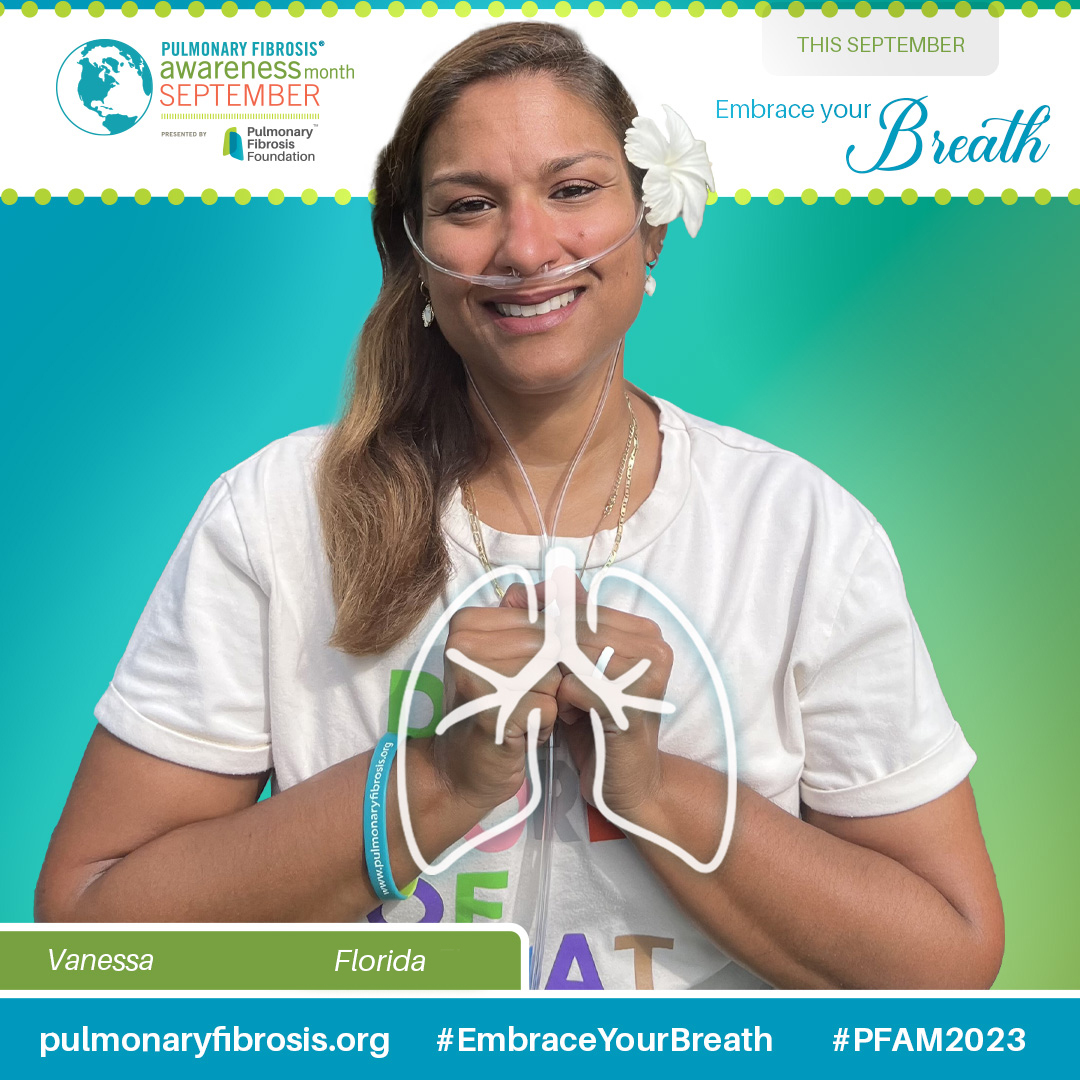 Three easy steps to submit your photo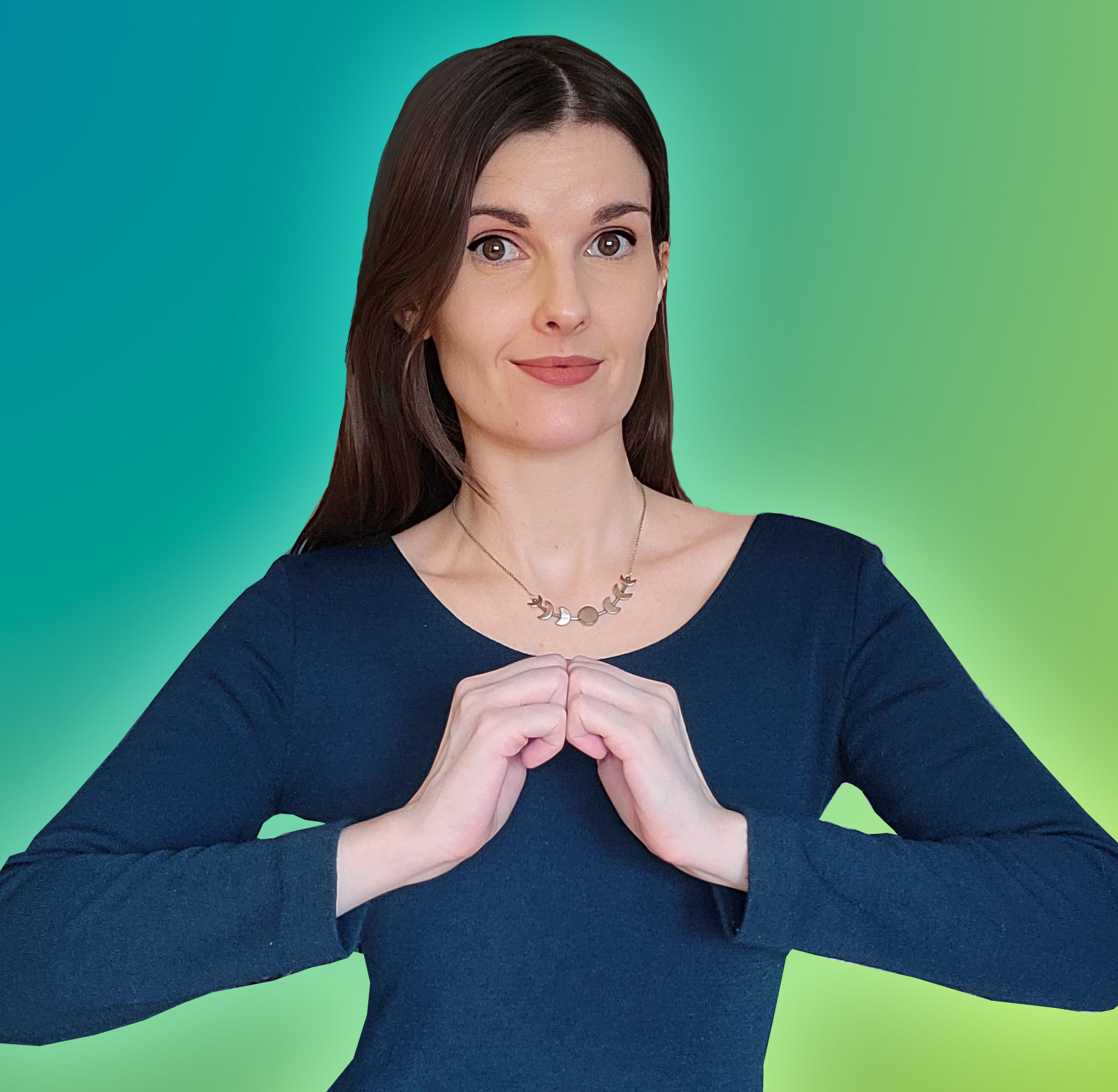 Step 1
Strike the pose! Take a solo selfie, or gather friends and family for a photo. To make the pose, join your second knuckles together and place them over your chest. This symbolizes the lungs.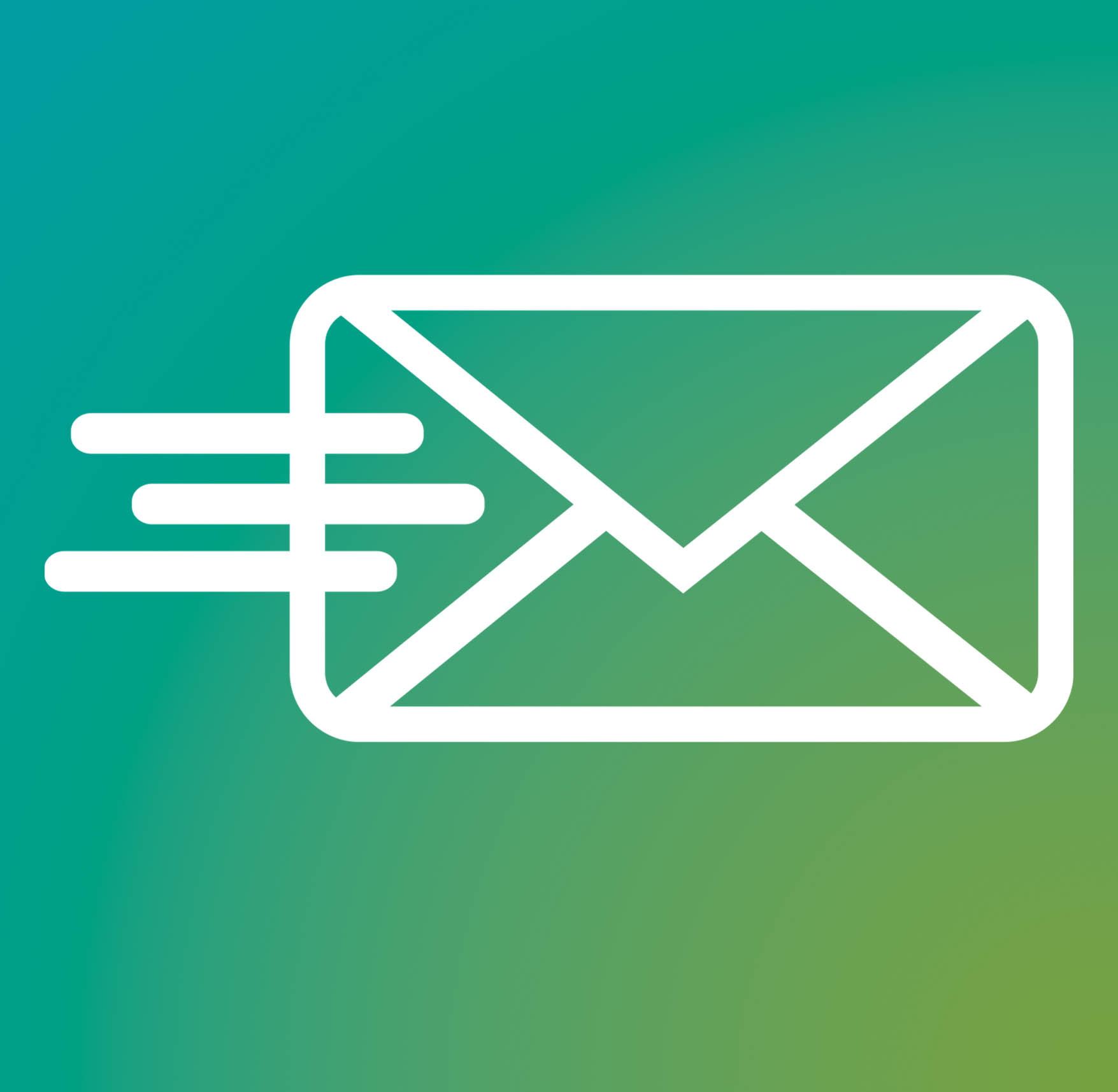 Step 2

Send your photo to us through our form. We'll drop it into our official PFAM template and return the photo to you.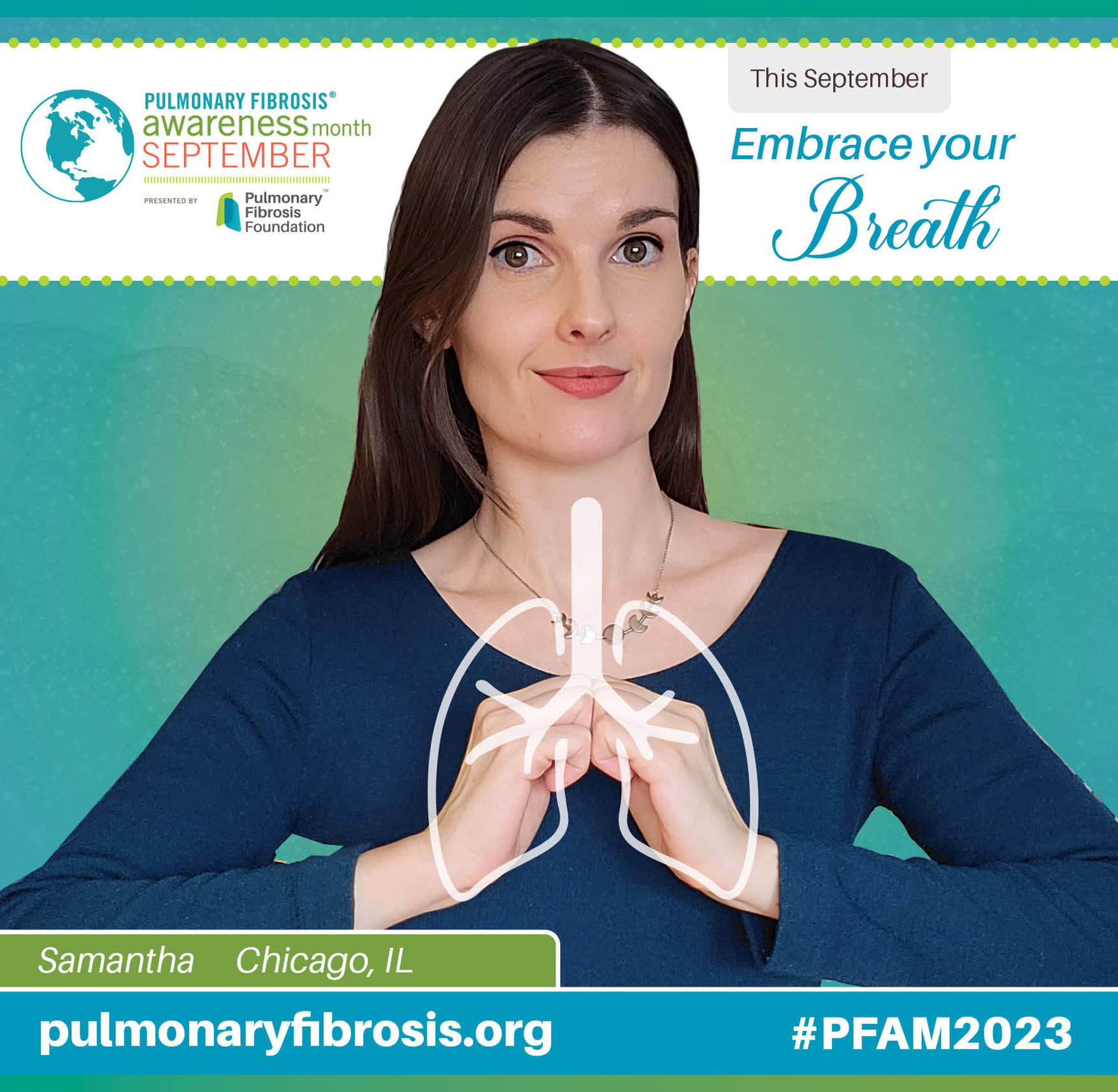 Step 3

Post the finalized photo on social media! Use the hashtag #EmbraceYourBreath to tell the world how pulmonary fibrosis has impacted you and why you're raising awareness in September.

Get a building or landmark to #BlueUp4PF
Take it one step further by getting a local building or landmark in your community to go blue in the #BlueUp4PF activity! If there's a unique building or landmark in your community that can shine blue at night, reach out to the building's management and ask them to participate by changing their evening lighting to blue.
If you secure a building lighting, be sure to let us know so we can share the news. Blue buildings will be shared on social media in the evenings at 7:00 p.m. CT during September.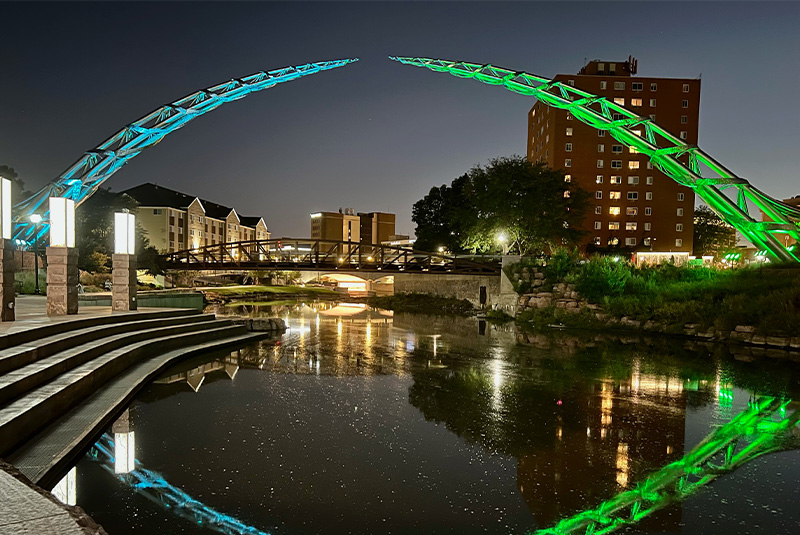 ILD Day
On Wednesday, September 13, the PF community celebrated the third annual ILD Day, a very special webinar presentation about supplemental oxygen. The one-hour presentation discussed why oxygen is a physiological problem with interstitial lung disease (ILD) and why supplemental oxygen is recommended. The full-length webinar is available now.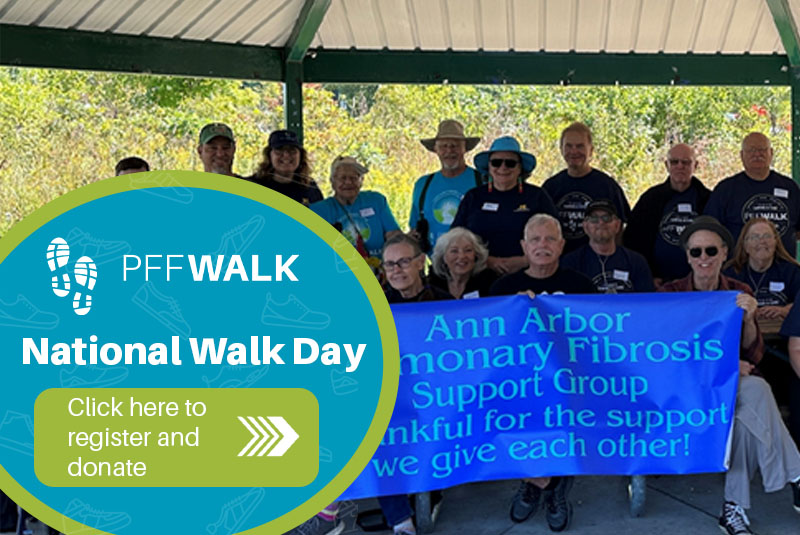 Together toward a cure: National Walk Day on September 30
The PFF Walk unites the community in raising funds and awareness for the Pulmonary Fibrosis Foundation. Join us as we walk together toward a cure virtually on the last day of Pulmonary Fibrosis Awareness Month!
Bring the spirit of the PFF Walk to your own community. Start your day with an inspiring Mission Moment from the PFF and then gather your family and friends for a walk at the location of your choosing.
Register for yourself or start a team today! Registration is free.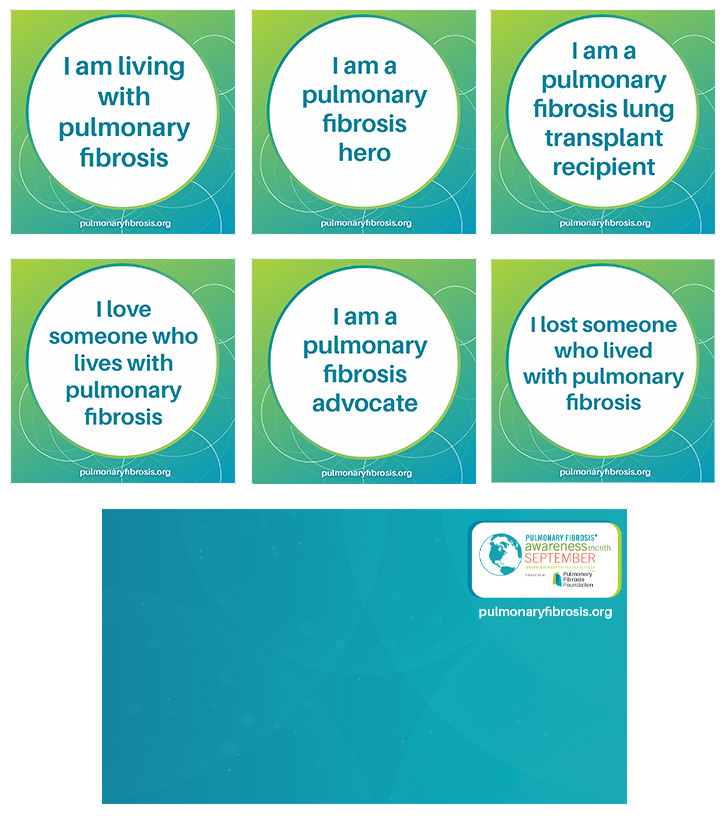 Customize Your Social Media Profile
Make a Gift
You can show your support to the PF community by making a donation to the Foundation. Throughout the entire month of September, the Foundation welcomes everyone who has been touched by the stories, facts, photos, and more to make a gift to help people everywhere who are living with pulmonary fibrosis.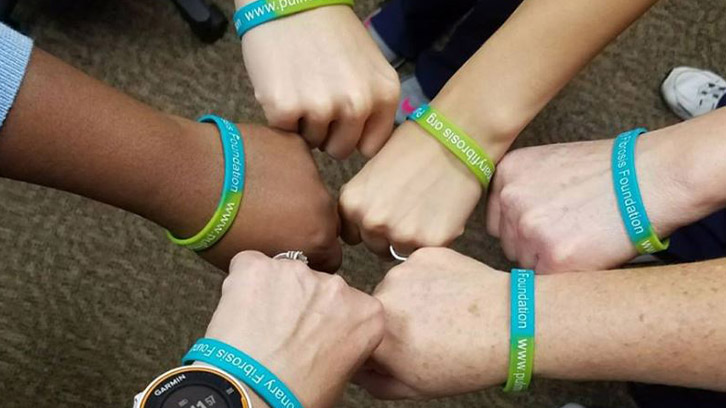 Thank you to our Pulmonary Fibrosis Awareness Month Sponsors!
Interested in becoming a sponsor? Sponsorships are available!