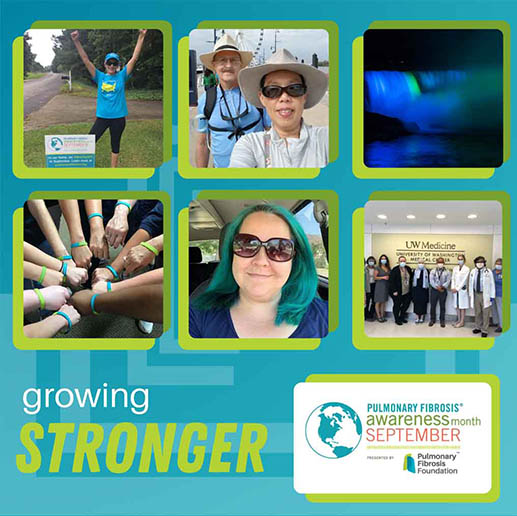 Let the World Know: September is Pulmonary Fibrosis Awareness Month
Each September, join with those who have been impacted by pulmonary fibrosis worldwide to unite for Pulmonary Fibrosis Awareness Month (PFAM)!

This initiative relies heavily on social media participation to spread the word about pulmonary fibrosis all over the world. One of the first steps you can take is to follow and interact with us on our social media channels. Find us online with our handle @pfforg on Facebook, Twitter, Instagram, and YouTube, and use the hashtags #PFMonth and #BlueUp4PF to start getting social!

Keep reading to learn about the different ways YOU can take action in September. For questions about PFAM, contact us at socialmedia@pulmonaryfibrosis.org.
Thank you to AllianceRx Walgreens Prime, our 2021 sponsor!
30 Facts In 30 Days
One of the best ways to spread awareness about pulmonary fibrosis is to educate others about the impact of this devastating disease. Each September, the PFF launches 30 Facts In 30 Days on Facebook, Twitter, and Instagram. This campaign shares trusted, medically accurate facts about pulmonary fibrosis. A new fact is shared each day. You can view the full list of 2021's facts.

Help us spread the message far by liking, sharing, re-tweeting, and commenting on the 30 facts.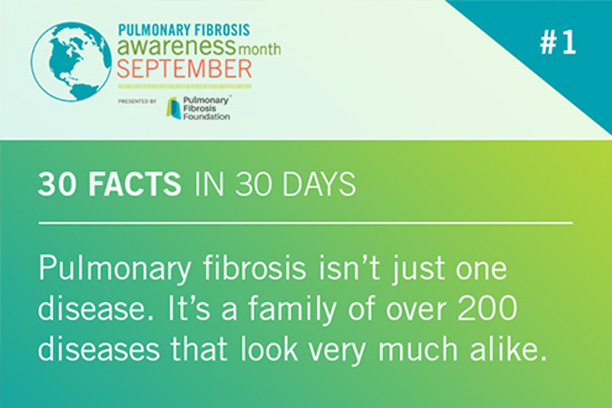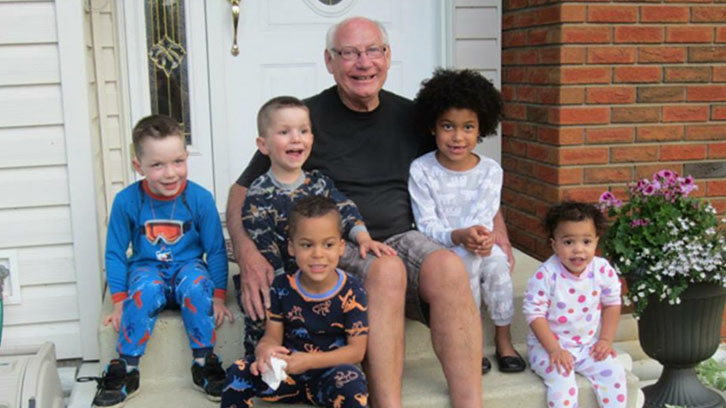 Share Your Story: Portraits of PF
Sharing your story with the PFF is a powerful way to spread awareness. We hope to share 30 stories in September, or one story every day. We invite you to share your story in honor of yourself or your loved one with pulmonary fibrosis.

Get started and submit your story now on our Share Your Story page.
Go Blue: #BlueUp4PF
This is your chance to let your creativity shine! #BlueUp4PF encourages you to wear as much blue as possible, take a selfie, and then post about it on social media using #BlueUp4PF. One popular activity is wearing a blue wig, or going all out and dyeing your hair blue. You can also personalize our printable selfie sign to tell us where you are going blue. Don't forget to wear your PFF Breathe Bracelet! Bracelets are for sale at Shop-PFF.com and make a great awareness accessory. When you take a #BlueUp4PF selfie, send it to us to help us raise awareness on social media!

You can ask a local building or landmark to go blue, too. Reach out to the building's management and ask them to participate by changing their evening lighting to blue. You can download our request letter template below. If you secure a building lighting, be sure to let us know so we can share the news.

Download the selfie sign (for individuals)
Download the selfie sign (for organizations)
Download the Letter of Request (for buildings to participate)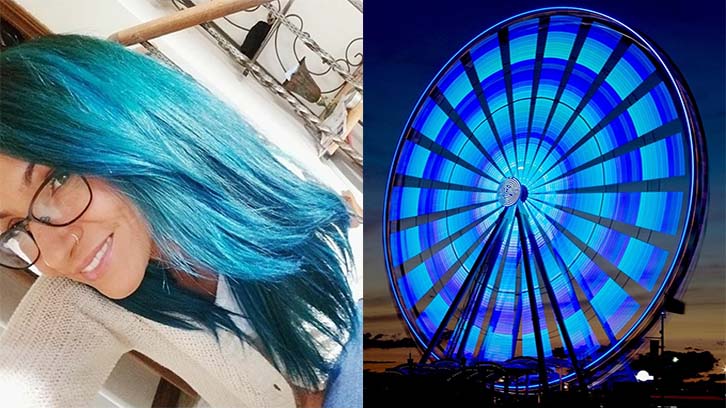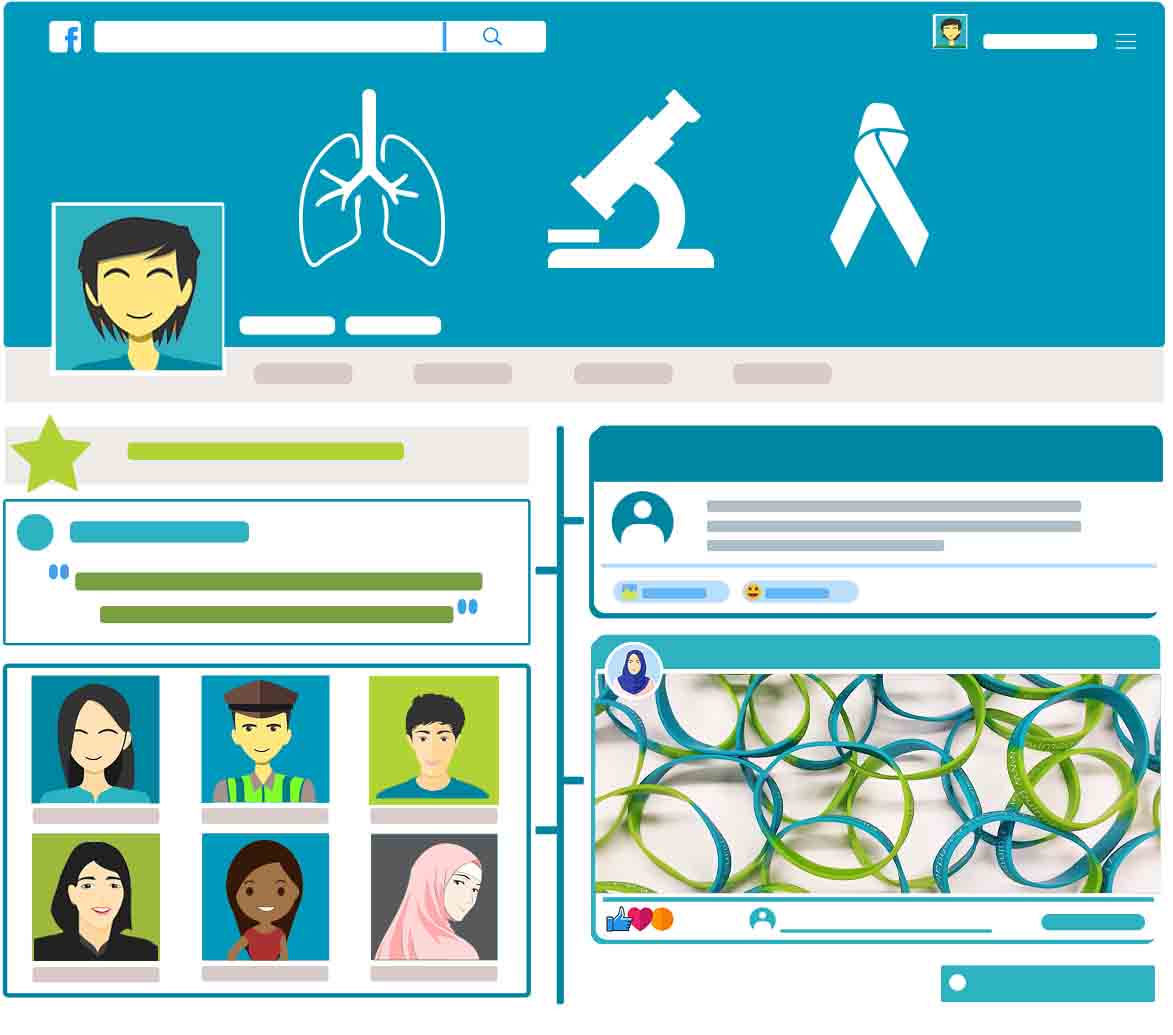 Customize Your Social Media Profile
Make a Gift
You can show your support to the PF community by making a donation to the Foundation. Throughout the entire month of September, the Foundation welcomes everyone who has been touched by the stories, facts, photos, and more to make a gift to help people everywhere who are living with pulmonary fibrosis.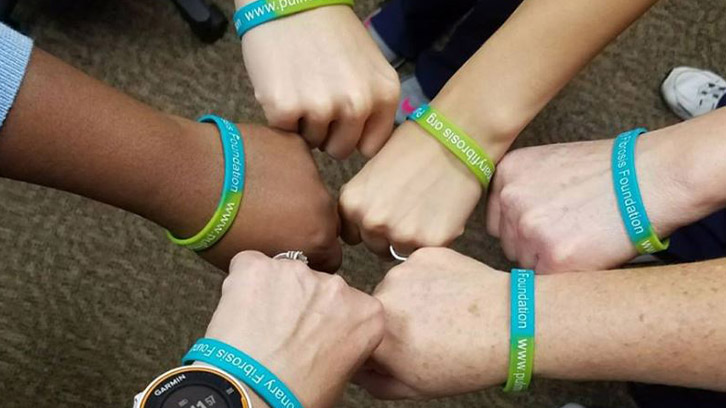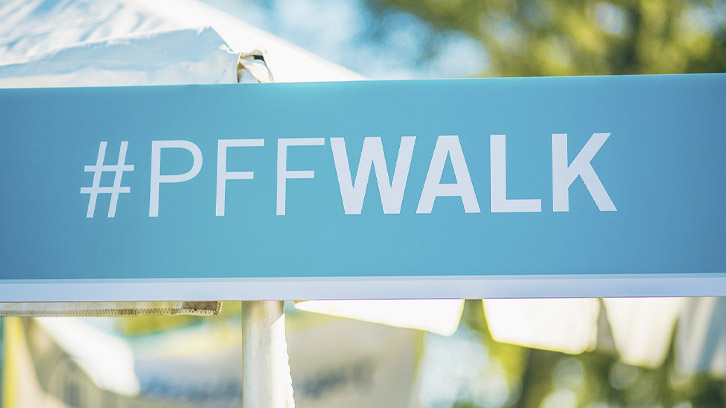 Walk With Us at the PFF Walk!
Take one step closer in the search for a cure and register to walk with us! You can unite with patients, families, and friends across the country and bring the spirit of the PFF Walk to your community! Stay tuned for information about the dates of 2022's PFF Walk.

Fundraise with Team PFF
Make a difference for patients and their families by starting your own fundraising campaign during the month of September! The options are endless and we encourage your creativity! You could:
Host a bake sale and sell blue cupcakes
Send your family and friends PFF bracelets in exchange for a donation
Start a Facebook fundraiser and share your story with your friends & followers
Fundraising is a great way to build awareness and increase your impact! Review our Team Leader Guide to get started or tell us more about your plans & a member of our team will reach out to support your efforts!