The PFF Registry is fostering a community of patients, caregivers, and family members all with the same goal: advancing medical research to improve the lives of patients with pulmonary fibrosis.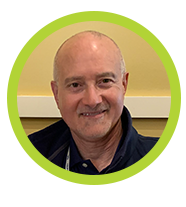 I hope my participation in the PFF Registry can ultimately help other patients understand and plan for what their disease may bring. By filling out quality-of-life questionnaires for the Registry, I want to provide enough data points so that healthcare providers can help their patients work through their struggles.
Ken Vella, Patient
Wake Forest, North Carolina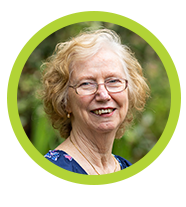 I take part in every research study I can. It's an important contribution that I can make. Maybe that information won't help me, but it may help someone else, maybe my children or grandchildren.
Sandy Gallagher, Patient
Charlottesville, Virginia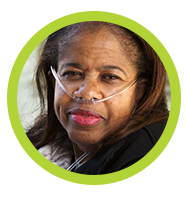 A diagnosis of pulmonary fibrosis affects not only patients but also our family members and loved ones. The PFF Registry is important because pulmonary fibrosis is a new disease compared to other lung diseases that get more attention. I hope researchers and companies will use the Registry to make life easier for all of us.

Valeria Hatcher
PF Patient
The PFF Registry Extends into the Community
Physicians currently have no way to predict the course of any individual case of PF, but the PFF Registry is working to change that. By following large numbers of patients living with PF over time through the PFF Registry, we are already learning more about the best way to care for patients, including managing symptoms, improving quality of life, and more.
The PFF Registry is collecting data from patients, caregivers, and family members nationwide to help researchers find answers on pulmonary fibrosis and interstitial lung disease. The Registry needs voices from all different diagnoses, regions, races, ethnicities, ages and lifestyles in order to provide the clearest picture of the disease for researchers.
The PFF Registry has two individual databases:

The PFF Care Center Registry collects medical data from thousands of patients and is administered by PFF Care Centers across the country. Data from participants' usual medical care is uploaded into the Registry by a Care Center data coordinator.
The PFF Community Registry gathers data directly from participants via an easy-to-use online portal. Surveys can be completed at your own pace and in the comfort of your own home.
Informed Consent

You can read the informed consent document for the PFF Community Registry.
Voluntary Participation
Participation in the PFF Registry is voluntary. Although we hope you will enjoy the sense of community and contributions you are making, you can stop participating at any time. Watch the video demonstration below for a step by step tutorial.

Data Security
The PFF Registry database is highly secure, using the same technology trusted by doctor's offices, hospitals and clinical trials worldwide. How much information you want to share with researchers is up to you. You can decide whether or not to allow researchers to contact you for additional studies such as clinical trials.


Ongoing Engagement
As a part of the PFF Community Registry, you will receive periodic research and other updates via the PFF Registry newsletter so you can see how your information is helping shape the future of PF research.
Donate Today
Your gift to the PFF Patient Registry will enable us to expand patient enrollment and provide even greater access to investigators as they search for a cure for PF.

Your Privacy Matters

The Pulmonary Fibrosis Foundation Registry considers the protection of your privacy to be one of our most important responsibilities. We have set up strict protocols to protect your personal information. Review our privacy policy.
PFF Registry News
View the latest news and updates about the PFF Registry.
Contact Us
For information about the PFF Registry, contact registry@pulmonaryfibrosis.org.
PFF Registry
Patient Powered. Data Driven. Research Results.