Dr. Daniel Rose (October 20, 1947 - July 11, 2023)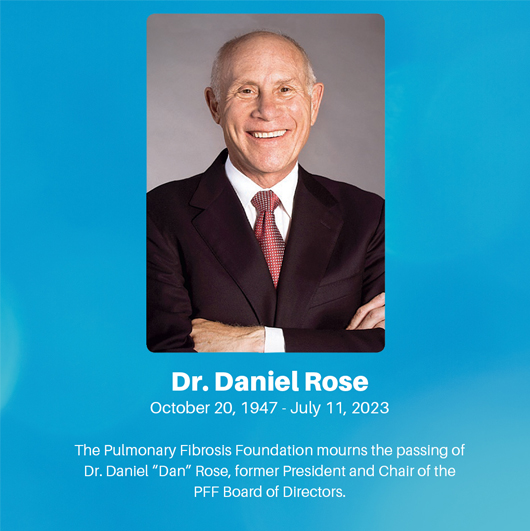 Dr. Daniel Rose (October 20, 1947 - July 11, 2023)
The Pulmonary Fibrosis Foundation (PFF) mourns the passing of Dr. Daniel "Dan" Rose, former President and Chair of the PFF Board of Directors.
Dan and his family founded the PFF in 2000 after his father and aunt were diagnosed with pulmonary fibrosis (PF). Shortly after the formation of the PFF, Dan's uncle was also diagnosed with PF. Their commitment and foresight shaped the PFF into what it is today – the nation's leading advocacy organization supporting pulmonary fibrosis patients through research, education, and advocacy.
Dan was born in Denver, Colorado, where he lived until he completed high school. He graduated from Wesleyan University in Connecticut and University of Colorado Medical School. Dan completed his residency in cardiac surgery at New York University.
In 2002, after retiring from his career as a cardiothoracic surgeon, Dan became Chair of the PFF Board of Directors, and he served as the PFF's CEO from 2009-2015. Under his leadership, the PFF became a unifying force and trusted resource in the PF community. Dan was a visionary who spearheaded numerous innovative education and research programs. His unwavering drive to support the pulmonary fibrosis community led to the development of some of the PFF's most impactful initiatives – the PFF Registry, PFF Summit, and the PFF Care Center Network. Together, these initiatives reach thousands of patients, families, and health care providers.
During Dan's tenure at the PFF, the first two antifibrotic therapies, nintedanib and pirfenidone, were approved by the FDA. This was a transformational milestone in the treatment of IPF.
After serving as President and Chair of the PFF, Dan continued to support the Foundation by participating in the Development Committee. He was a fearless fundraiser and never shied away from a difficult solicitation. Dan was also a valuable member of the PF Warriors, and he served on the steering committee of the Clinical Trials Transformative Initiative (CTTI).
Dan will be dearly missed by his wife, Ellen, children, grandchildren, and many friends. While we still have far to go in our fight against PF, patients and their families are in a better position because of Dan's efforts.