Smoke Gets in Your Eyes
June 14, 2023
Wildfires burning in Canada have had significant impact on air quality in the eastern U.S. over the past week. We've all seen news reports from New York and Washington D.C. and pictures of hazy orange skies filled with smoke. People as far south as the Carolinas have seen smoky skies due to a weather system hovering over the northeast. While unusual in this part of the country, the west coast regularly experiences the effects of wildfire smoke, as climate change worsens drought conditions and increases the frequency and severity of fire seasons.
But it's not just wildfire smoke that affects air quality. Air pollution is generated by the burning of fossil fuels and is worse in the summer when sunny, hot weather increases ground level ozone production and particulate pollution. The Air Quality Index (AQI) measures five air pollutants: ground level ozone, particulate matter, carbon monoxide, sulfur dioxide, and nitrogen dioxide. You can look up the AQI online, and it is often referenced in local weather forecasts. AQI levels over 100, or in the "code orange" range or higher, are unhealthy for people with lung and heart conditions, while AQI levels over 150 can affect otherwise healthy individuals.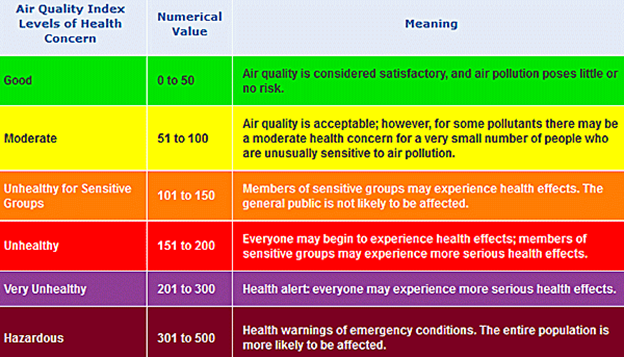 Air pollution is a known contributor to both respiratory and cardiovascular illnesses, and according to a study by the World Health Organization outdoor air pollution caused 4.2 million excess deaths globally in 2016. Work by Pulmonary Fibrosis Foundation (PFF) scholar, Gillian Goobie, MD, PhD, using PFF Registry data, demonstrated that exposure to fine particulate matter, known as PM2.5, was associated with worse lung function, faster disease progression, and increased mortality in patients with pulmonary fibrosis (PF). Click here to hear Dr. Goobie discuss her research. PM2.5 is generated by wildfires, the burning of fossil fuels, industrial and other sources.
Unfortunately, the effects of air pollution including smoke from wildfires will continue to affect our communities, so, what can patients with PF do to protect themselves? Start with checking the AQI in your area on the AirNow.gov website and avoiding outdoor activities when the AQI is over 100. On those days, stay inside as much as possible with the windows and doors closed. You can use central air conditioning to filter the air or even use an air purifier with a HEPA filter. If you are in an area affected by wildfire smoke or other causes of very poor air quality, you can use a well-fitting, high filtration face mask, such as an N95 respirator, if you need to go outdoors, and in the car, set the air conditioner to recirculate to reduce smoke. Be sure to contact your doctor for any changes in your symptoms or specific questions about your lungs.
References:
1. Air Quality Index (AQI) Basics, Environmental Protection Agency, Accessed June 9, 2023, http://airnow.gov/aqi/aqi-basics
2. Goobie GC, Carlsten C, Johannson KA, Khalil N, Marcoux V, Assayag D, Manganas H, Fisher JH, Kolb MRJ, Lindell KO, Fabisiak JP, Chen X, Gibson KF, Zhang Y, Kass DJ, Ryerson CJ, Nouraie SM. Association of Particulate Matter Exposure With Lung Function and Mortality Among Patients With Fibrotic Interstitial Lung Disease. JAMA Intern Med. 2022 Dec 1;182(12):1248-1259. doi: 10.1001/jamainternmed.2022.4696. Erratum in: JAMA Intern Med. 2022 Dec 1;182(12):1331. PMID: 36251286; PMCID: PMC9577882.
3. Wildfire Disaster Guidance: Tips for Staying Healthy during Wildfires, American Thoracic Society, Accessed June 8, 2023, https://www.thoracic.org/patients/patient-resources/resources/wildfires.pdf