Education, Research, and Networking: What to Expect at PFF Summit 2023
May 22, 2023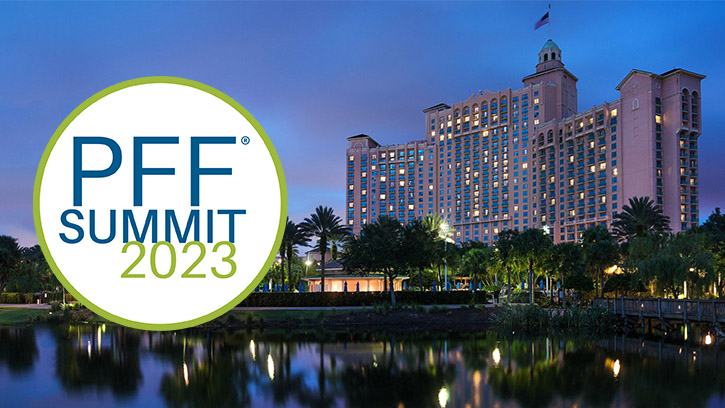 The world's largest conference focused on pulmonary fibrosis (PF) and interstitial lung disease (ILD) research and education, PFF Summit, is back as an in-person event! PFF Summit 2023 will take place from November 9-11 at the JW Marriott Orlando, Grande Lakes, Florida. This unique event unites the pulmonary fibrosis community and brings together physicians, researchers, allied health professionals, industry sponsors, patients, caregivers, lung transplant recipients, and those who lost a loved one to this disease.
In conjunction with the Summit Planning Organizing Committee, the conference agenda was shaped by PFF Summit 2023 Co-Chairs Patricia Sime, MD, FRCP, Virginia Commonwealth University; Tracy Luckhardt, MD, University of Alabama at Birmingham; and Ann Lucas, Support Group Leader and Lung Transplant Recipient from Charlottesville, Virginia. The two plenary sessions will focus on the role of federal agencies in pulmonary fibrosis research and care as well as a discussion about the importance of clinical trials in finding treatments and a cure for PF. Among other topics, education sessions for patients, caregivers, lung transplant recipients, and those who have lost a loved one will cover environmental impacts, genetics, preparing for and surviving a lung transplant, symptom management, and more. Accredited sessions geared for healthcare professionals will explore disparities in interstitial lung disease, genetics, improving symptom management, research in the pipeline, a multidisciplinary discussion (MDD), and a variety of other topics. The PFF Summit will also dedicate specific, closed-door sessions for community pulmonologists and ILD fellows, and for nurses and other allied health professionals, which will take place on Thursday, November 9. We believe this comprehensive agenda will feature topics of interest for all who attend!
In addition to a full lineup of education sessions, the agenda features a welcome reception and poster presentation featuring scientific posters of ongoing research, a networking dinner, and an exhibit hall with the latest services and products for people living with pulmonary fibrosis. Current sponsors include Boehringer Ingelheim, United Therapeutics Corporation, Accredo, Bristol Myers Squibb, Merck, and Trevi Therapeutics. Exhibitors at the exhibit hall will also include Accredo, Boehringer Ingelheim, Bristol Myers Squibb, CVS Health, and Rare Patient Voices. More sponsors and exhibitors are expected to participate as well and this list will be updated accordingly prior to the start of the conference.
The site of this year's Summit, the JW Marriott Orlando, Grande Lakes, is a luxury resort located on a 500-acre property. The resort is home to a new Grande Lakes Water Park featuring a lazy river, three waterslides, restful lagoons, and luxury cabanas. Golfers are invited to try the challenging 18-hole golf course while nature lovers can use the mountain bike trail, join an eco-tour, or spend quiet time fishing. After a long day, relax in the guest rooms with sweeping views of the resort and then enjoy one of the in-house dining options, from Italian fare at Primo to a farm-to-table menu and craft beer at Whisper Creek Farm. Additional amenities include a Ritz-Carlton spa and fitness center. The resort has extended a special rate to all attendees of the PFF Summit of $250 per night before taxes and a discounted resort fee of $25. All lodging in the PFF room block must be booked by October 19, 2023.
The Pulmonary Fibrosis Foundation Board of Directors, Medical Team, staff, and Summit Planning Organizing Committee hope that you will join us for this one-of-a-kind event. If you have any questions, please email pffsummit@pulmonaryfibrosis.org or call the PFF Help Center at 844-825-5733. Registration for Summit today here; please use this link to book your hotel room for your stay in Orlando.