We need changes to the way that patients receive supplemental oxygen
February 10, 2023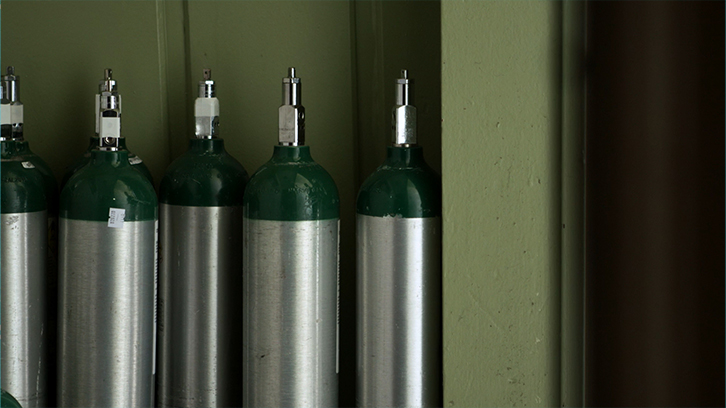 Approximately 50% of people living with pulmonary fibrosis (PF) who use supplemental oxygen report having problems with their oxygen. Examples of these problems include not receiving the type of oxygen equipment ordered by their doctor, unreliable service and delivery, a lack of education on how to use supplemental oxygen, and being given too few oxygen refills to meet their needs.
The Pulmonary Fibrosis Foundation has joined 23 other patient, professional, and industry groups in advocating for changes to how oxygen is provided. Key elements of these "Four Pillars for Oxygen Reform" include:
Creating a patients bill of rights
Ensuring that patients have access to liquid oxygen when necessary. Liquid oxygen is important because it provides patients who need high flow oxygen with a lightweight and portable option. Without liquid oxygen, many people on high flow oxygen struggle to leave the house or are limited to just a couple of hours outside of the home.
Covering respiratory therapy services for people who use oxygen. Respiratory therapists are trained to provide education and specialized support to patients who use oxygen.
If you are a patient who currently uses oxygen or has used oxygen in the past, or if you are a caregiver for someone who uses oxygen, we invite you to sign a petition in support of the "Four Pillars for Oxygen Reform."
Sign the petition for the "Four Pillars for Oxygen Reform"
Below are the "Four Pillars for Oxygen Reform":
1. Ensure supplemental oxygen is patient-centric:
"Home oxygen" to "supplemental oxygen" to ensure people requiring oxygen can live full lives outside their primary residence
Create a patients bill of rights to ensure care is focused on patient needs
2. Ensure access to liquid oxygen for patients for whom it is medically necessary
3. Create a statutory service element to provide adequate reimbursement for respiratory therapists to ensure patients have access to their expertise
4. To ensure predictable and adequate reimbursement and to protect against fraud and abuse, establish national standardized documentation requirements that rely upon a template rather than prescriber medical records to support claims for supplemental oxygen suppliers
The following organizations have signed on in support of the "Four Pillars for Oxygen Reform":
Allergy & Asthma Network
Alpha-1 Foundation
American Association for Respiratory Care
American Association of Cardiovascular and Pulmonary Rehabilitation
American College of Chest Physicians
American Lung Association
American Physical Therapy Association
American Thoracic Society
California Society for Pulmonary Rehabilitation
COPD Foundation
The Council for Quality Respiratory Care
Dorney-Koppel Foundation
Hawaii COPD Coalition
Hospice and Palliative Nurses Association
The LAM Foundation
NTM Info & Research, Inc.
PCD Foundation
Pulmonary Fibrosis Foundation
Pulmonary Hypertension Association
Respiratory Health Association
Running On Air
Scleroderma Foundation of California
TSC Alliance
U.S. COPD Coalition