Caregiving for a Patient with Pulmonary Fibrosis
January 06, 2023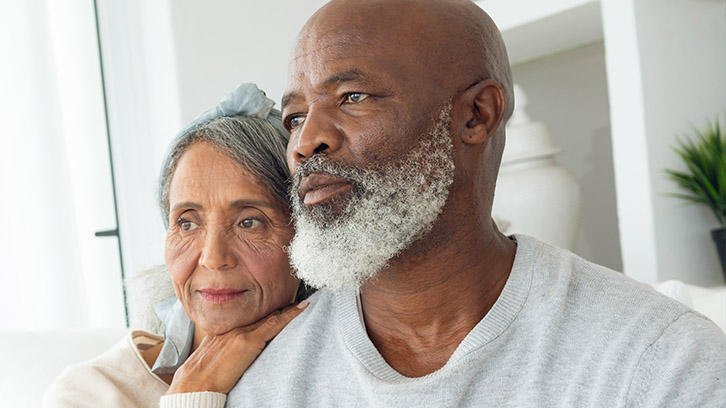 Whether you're a spouse, partner, child, other relative, or dear friend, caring for someone living with pulmonary fibrosis is a substantial responsibility that can be both a comfort and a challenge. Increased demands as a caregiver may gradually sneak up or could be triggered by a major lifestyle or health change and caregivers rarely feel prepared or trained for these changes. In addition to providing care, caregivers still maintain other roles as well, such as an employee, parent, or volunteer with their own sets of expectations and obligations. Adding caregiving responsibilities to all that needs to be done can feel overwhelming at times. The good news is that there is information available to help you on this journey. If you're caring for a loved one with pulmonary fibrosis, the Pulmonary Fibrosis Foundation's newest resource Caregiving for a Patient with Pulmonary Fibrosis: A Guide for Family and Friends may help you to be a more effective caregiver while learning how to care for yourself at the same time. This material can be downloaded from the website or ordered from the PFF Help Center free of charge.
Once your loved one has been diagnosed with pulmonary fibrosis, a solid foundation of disease knowledge is important. Pulmonary fibrosis is a complex disease and often requires a number of specialists to be involved in the care plan. The PFF's "Understanding PF" section of the website can help you learn more about pulmonary fibrosis and the impact the disease may have on your loved one. Additionally, the PFF has created a library of free educational resources that can be downloaded directly to your computer or tablet or sent as a hard copy in the mail. More information about the education materials available to you can be found here or by calling the PFF Help Center at 844.TalkPFF (844.825.5733).
As your pulmonary fibrosis disease knowledge grows, you will also need to develop some caregiving plans. You may need to ask for help from other sources such as professionals, community-based organizations, and friends. The deeper and wider your caregiving team, the more likely you'll be to have help when you need it. Be sure to seek the approval of your loved one before big decisions are made. For day-to-day living, maintain a current list of your loved one's medications and be familiar with any medical devices they may use, including oxygen. It's helpful to keep instruction manuals and customer service numbers handy and in a place that is easy to access. As you develop a new daily routine, make to-do lists to stay organized and productive but be mindful that the day won't always go according to plan and that it's okay to revise and improvise.
Caregivers should remember that their own health and emotional well-being is also important. Be sure to tend to your own physical needs, stay up to date with medical appointments, and explore stress management techniques. Take time out for yourself each day to do something that brings you peace and joy, and maintain your social connections. It is beneficial to have a network of supportive relatives and friends to turn to when things are hard. Taking care of yourself will allow you to be a better care provider for your loved one.
A more in-depth look at this information and tips from pulmonary fibrosis caregivers is available to you in the Pulmonary Fibrosis Foundation's newest resource, Caregiving for a Patient with Pulmonary Fibrosis: A Guide for Family and Friends. Again, this guide can be found on the website for download or mailed to you at no cost by calling the PFF Help Center at 844.TalkPFF (844.825.5733).