The PFF Presents Research And Clinical Trial Resources At American Thoracic Society Conference 2022
June 21, 2022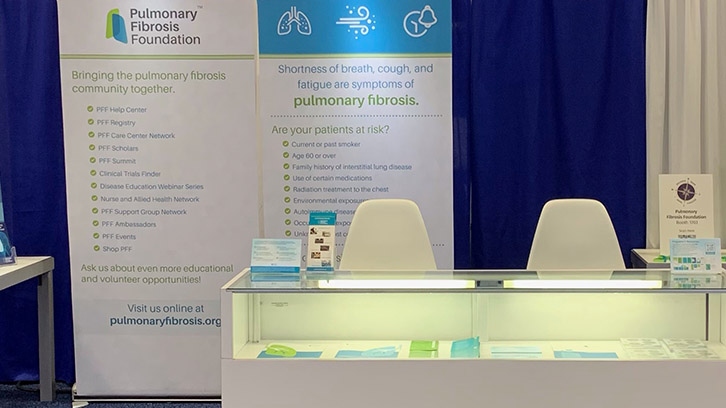 In May, I attended the American Thoracic Society (ATS) International Conference in San Francisco. This meeting, usually held once a year, is a gathering of thousands of clinicians, researchers, and health organizations from around the world, sharing and learning about the latest advances in the fields of pulmonary, critical care, and sleep medicine. I joined members of the PFF Medical Team and PFF leadership at the first in-person ATS conference since 2019 due to the COVID-19 pandemic.
While I was there, I attended some really informative sessions on interstitial lung disease (ILD), and I was excited to hear the results from four studies that used data from the PFF Patient Registry, as well as one study based on the PFF Care Center Network that were all presented at the meeting. These studies investigated patient outcomes across the PFF Care Center Network (CCN); hospitalization rates based on the type of ILD; the relationship between CT pattern, fibrosis extent and transplant-free survival in patients with ILD; urban and rural differences among patients living with PF; and access to palliative care services. Here is a quick recap of the studies —
Differences in Patient Outcomes Across the PFF Care Center Network, J. S. Lee, R. Boente, E. White, C. Baxter, J. E. Shore, H. R. Collard
Using PFF Patient Registry data, this study suggests that site-level variation exists with respect to key clinical outcomes for patients with ILD managed at PFF CCN sites. This research supports further investigation to identify the differences in patient care and the resources that are associated with improved patient outcomes.
Hospitalization Rates in Various Interstitial Lung Diseases: An Analysis of the Pulmonary Fibrosis Foundation (PFF) Patient Registry, C. S. King, R. V. Ignacio, E. Freiheit, S. Arya, V. Khangoora, A. L. Singhal, A. Nyquist, A. Brown, O. A. Shlobin, K. R. Flaherty, S. D. Nathan
Researchers analyzed rates of hospitalization in patients in the PFF Patient Registry and discovered that rates were similar among different types ILDs. Hospitalization was associated with an increased risk of death or transplant in PFF Registry participants. Risk of death or transplant was highest following hospitalization in patients living with idiopathic pulmonary fibrosis (IPF) and lowest in patients living with non-IPF idiopathic interstitial pneumonia.
Visual and Quantitative CT Derived Parameters Predict Transplant-Free Survival in Patients with Interstitial Lung Disease: Results from the Pulmonary Fibrosis Foundation Registry, A. S. Oh, D. A. Lynch, K. R. Flaherty, S. M. Humphries, Pulmonary Fibrosis Foundation Registry Investigators
Using established diagnostic criteria for usual interstitial pneumonia (UIP) in a population of PFF Registry patients diagnosed with an ILD, researchers explored the relationship between radiologic patterns on high-resolution computed tomography (HRCT) scans, fibrosis severity, and transplant-free survival rates. The study showed that a definite UIP pattern and severity of fibrosis are predictors of transplant-free survival in a group of patients diagnosed with different types of ILD.
Comparison of Interstitial Lung Disease Diagnoses in Urban and Rural Areas Among Patients in the Pulmonary Fibrosis Foundation Patient Registry, A. E. Dimmock, E. White, Y. Furuya, E. Freiheit, H. Kim
Using the PFF Patient Registry, the study team found that hypersensitivity pneumonitis and exposure-related ILDs were more frequently seen in ILD patients who live in rural areas and were associated with certain types of fuel use. The investigators concluded that coal and wood fuel use may explain the different types of ILDs found in patients who live in rural areas.
Discordance in Actual Versus Perceived Access to Palliative Care Services for Pulmonary Fibrosis Foundation Care Centers, R. A. Gersten, B. Seth, K. O. Lindell, S. K. Danoff
Providers at PFF Care Center Network sites view palliative care as an important resource for their patients with pulmonary fibrosis. However, fewer patients living with PF have access to local outpatient and inpatient palliative care services than healthcare providers realize. This study shows that this disconnect may be an important barrier to palliative care referral for patients with pulmonary fibrosis.
In addition to the research presentations, the PFF showcased its latest resources to help patients living with PF to identify relevant and feasible clinical trials. The PFF clinical trials education center features a new Clinical Trials Guide and searchable Clinical Trial Finder tool to help patients find studies that are currently enrolling in their area. By participating in clinical trials, people living with PF can help researchers find answers to key questions about pulmonary fibrosis. This may lead to better care and outcomes for people living with the disease.
The PFF is committed to investing in research and collaborating with investigators and healthcare providers to accelerate new therapies for people living with PF. We urge our community to take an active role by participating in clinical studies and sharing your PF experience with investigators. Together, we can fast forward medical research and improve the lives of patients living with PF.