Meet Your PF Care Team: Krishna Thavarajah, MD MS
December 28, 2021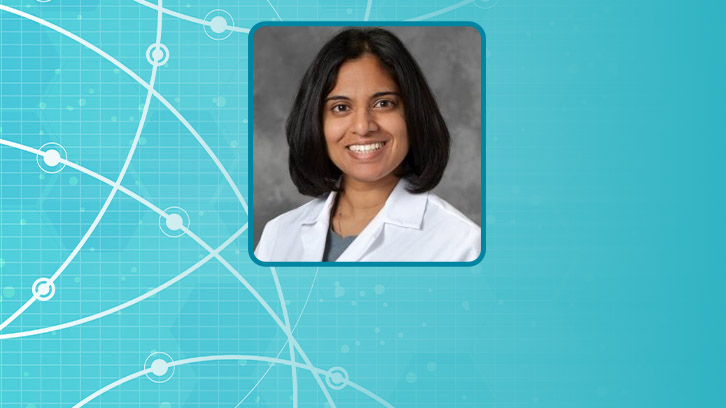 The care teams at our PFF Care Center Network (CCN) sites are made up of many different healthcare professionals, each with an important role to play in running the center and caring for patients. To help you understand how your care team works, we are continuing our series of posts introducing members of the pulmonary fibrosis (PF) care team. We'll do this by highlighting team members from Care Center Network sites across the country and letting you learn more about them and their role.
Tell us your name, credentials, and medical center.
Krishna Thavarajah, MD MS
Henry Ford Hospital in Detroit, MI
How did you get started in your field and what are you passionate about with your work?
I was first drawn to pulmonary and critical care medicine in the intensive care unit (ICU) as an Internal Medicine Resident. The ICU appealed to me on multiple levels: the ability to work through complex issues, the amount of data available to help toward caring for my patients, the team approach to care, and the ability to connect with patients and families. I wanted a part in the conversations that help patients and their family members understand their illness and prognosis.
As a Pulmonary and Critical Care Medicine Fellow, I gravitated toward interstitial lung disease (ILD) because so much of the diagnosis and treatment recommendations are centered on knowing a patient well. In caring for patients living with ILD, I have the privilege of hearing someone's story, piecing together the puzzle of the diagnosis, and explaining symptoms. Together, we figure out how to tackle what we have found. In addition to being able to connect with patients, I am passionate about how to translate advances in the literature to everyday practice and apply that knowledge to an individual patient.
What does a typical day or week look like for you?

I spend most of my time on ILD rotation, in which I see patients in clinic and hospitalized patients over the course of the day. I am usually joined by one or two fellows, providing me with an opportunity to educate my future colleagues on improved recognition of, diagnostic approach to, and management of ILD. Clinic is the most involved part of my workday as this involves review of any outside records and imaging, an extensive visit to ensure I have the information needed to reach a diagnosis and treatment plan, teaching, charting, and communication with the referring physician. I work closely with the team's nurse, research coordinator, nurse practitioner, social worker, and pharmacist on fielding questions and addressing management issues throughout the day. Inpatient rounding also involves an extensive review of records, communication with the referring service, teaching, and charting. Depending on the week, I may also be involved in research visits or various other meetings.
As the ILD Program Director, I oversee the program's day-to-day operations, growth, and strategies for future research and clinical practice developments. I attend our weekly multidisciplinary conference to review diagnoses and disease management. I also participate in our weekly pharmacy meetings that address the needs of our patients who are starting medications and often require monitoring.
What is your favorite part of your job?
I still really enjoy the process of reaching a diagnosis and creating a care management plan; perhaps it is the detective work aspect or the opportunity to problem-solve in partnership with another person that I find most appealing.
What do you like to do in your free time?
Lately, most of my free time is spent chasing around my toddler and with family. I also enjoy cooking, reading, and, pre-pandemic, travel.
* MD, MS - Doctor of Medicine, Master of Science