A Patient's Guide to Participating in Pulmonary Fibrosis Awareness Month
July 31, 2021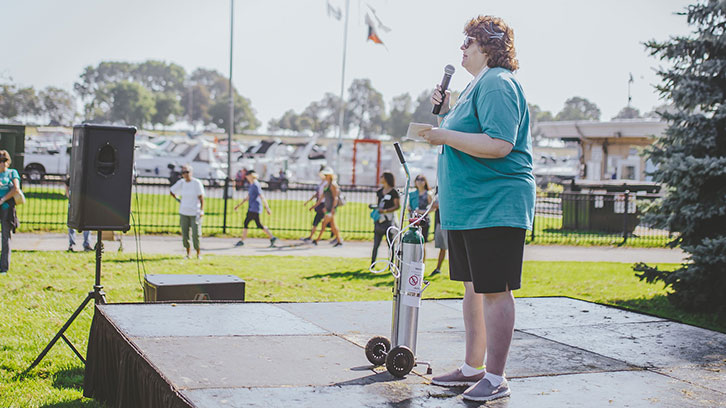 Every September, those who have been impacted by pulmonary fibrosis (PF) unite for Pulmonary Fibrosis Awareness Month (PFAM). Melissa King, a PFF Ambassador from New York, has participated in PFAM since 2017. Her reason for participating in PFAM is inherently personal. "When I was diagnosed, I had never heard of pulmonary fibrosis. It's important to continue to raise awareness." She believes that participating in PFAM gives her a surge of energy and also helps her to feel powerful. In Melissa's eyes, this is a way to fight back against the disease.
Melissa's involvement in PFAM has grown over the years. She initially started by sharing the Pulmonary Fibrosis Foundation's 30 Facts In 30 Days campaign on social media. This campaign shares trusted, medically accurate facts about pulmonary fibrosis. A new fact is shared each day on Twitter, Facebook and Instagram. Melissa would repost this information to educate those within her social network and encouraged them to share it as well. From there, she began to work with the management of local buildings and asked them to "go blue" for a day in September by changing the evening exterior lighting to blue. Last year, eight different buildings and landmarks in her area turned blue, including the historic Peace Bridge and renowned Niagara Falls. She has taken annual selfies with a bright blue hairpiece and shared the pictures on social media with the hashtag #BlueUp4PF. She has also distributed blue balloons with the PFF's Friends and Family postcard attached to promote and instill disease education. Participation in PFAM became a family affair for Melissa and now her husband, daughter and son help with these activities.
This year, while Melissa plans to continue with all of her awareness and education efforts, she will also add a fundraising component. She is currently organizing a team for the PFF National Walk Day on Saturday, September 25, and will safely gather family and friends to walk together at a local park on that day. She is in the process of connecting with local businesses to solicit donations as incentive prizes to encourage her team members' fundraising efforts. Melissa hopes to have blue hairpieces and other blue accessories available at her walk site for friends and family to use for social media photos.
For those looking to participate in PFAM this year, now is the time to start preparation. For local buildings or landmarks, Melissa encourages individuals to begin reaching out to building managers during the summer months and to use the PFF's Letter of Request template to assist with the process of "going blue." Blue hairpieces or blue fashion accessories can easily be purchased ahead of time from a local beauty salon or from various websites for a #BlueUp4PF selfie. You can even purchase a few extra for family and friends! Mark your calendar now for National Walk Day on September 25 and register as a team or an individual. It's never too early invite your family and friends to join you for this special day!
For additional information about participating in PFAM this year, visit https://www.pulmonaryfibrosis.org/get-involved/volunteer/pf-awareness-month.