Virtual Pulmonary Rehabilitation Toolkit Now Available for Pulmonary Fibrosis Patients
May 29, 2021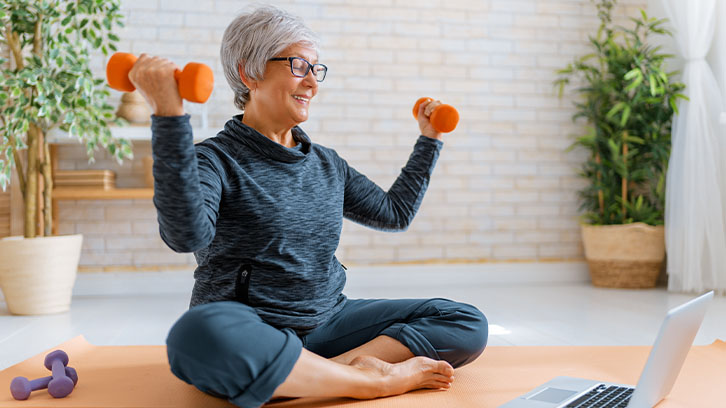 Pulmonary rehabilitation has been shown to have a number of benefits for pulmonary fibrosis (PF) patients. Pulmonary rehabilitation can help to improve physical function, breathlessness (dyspnea), mood, and quality of life in people with PF.
Unfortunately, many PF patients don't have access to pulmonary rehabilitation. It has been especially difficult for PF patients to participate in pulmonary rehabilitation during the COVID-19 pandemic. In response to this problem, the PFF partnered with the American Association of Cardiovascular and Pulmonary Rehabilitation (AACVPR) to develop a virtual pulmonary rehabilitation toolkit for PF patients.
Pulmonary rehabilitation is a structured exercise program for people with lung diseases. Elements of pulmonary rehabilitation include exercise training, education on managing lung disease, and education on developing healthy habits. Most pulmonary rehabilitation is provided in person. Patients can find a pulmonary rehabilitation program through the AACVPR Pulmonary Rehabilitation Program Directory.
The Pulmonary Rehabilitation Toolkit includes eight modules with exercise training and disease education. The toolkit is not meant to be a replacement for an in-person program but rather provides additional resources to patients. Exercise videos are offered at three levels: beginner, intermediate, and advanced. Patients should speak with their healthcare provider before starting a new exercise program. The toolkit also includes an exercise log, a vital signs log, and goals worksheet to help patients track their exercise. Examples of education topics include supplemental oxygen, treatment options, and nutrition. The Toolkit also features a new webinar and fact sheet on mindfulness.
Visit Our Pulmonary Rehabilitation Toolkit
Thank You To Our Sponsor