Telemedicine – Made Easy For You
April 03, 2021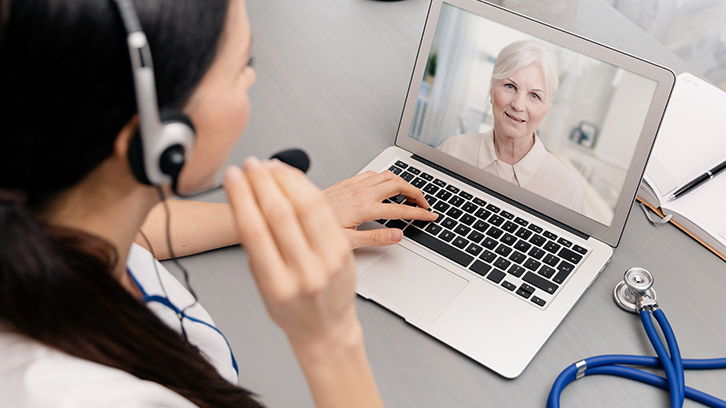 Have you used telemedicine to connect with your healthcare provider?
Either way, we have good news for you: The PFF has developed two new educational resources, the Telemedicine Basics booklet and Telemedicine Checklist, to help members of the PF community navigate the world of telemedicine with ease. We are excited to share these new telemedicine resources with you!
Telemedicine is the use of technology—smartphone, tablet, laptop, or desktop computer—to connect patients directly with their healthcare providers. This way of virtually connecting has become increasingly popular over the last few years, and especially since the beginning of the pandemic. The use of technology to access healthcare can be difficult for some, so we felt it was important to develop resources to educate and empower our community members and set them up for success with telemedicine.
In the Telemedicine Basics booklet, patients can learn how to connect with their healthcare providers in a virtual format. Read about how to prepare for a telemedicine appointment as well as what to expect during and after your virtual visit. Additional topics include the pros and cons of telemedicine, when to see a provider in person, insurance coverage, and troubleshooting technology.
The PFF's Telemedicine Checklist can help patients and caregivers prepare for a productive telemedicine visit with their provider. This checklist includes action items for patients to consider before making a telemedicine appointment, as well as before, during, and after the virtual visit. There is space to jot down notes on the back of the checklist—whether it's questions you have for your provider, information to share, or notes from your appointment, or follow-up instructions—and a handy space to note when your next appointment will be.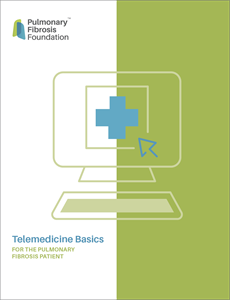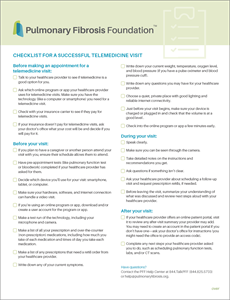 Click here to access our newest telemedicine materials and other PFF educational materials. Hard copies of the Telemedicine Basics booklet and Telemedicine Checklist will soon be available upon request via the PFF Help Center at 844.TalkPFF (844.825.5733) or help@pulmonaryfibrosis.org.
The PFF would like to thank Boehringer Ingelheim for their generous support of these important educational resources.