Being at Ground Zero
My name is Tom Frey and I'm writing to you today with the nightmare of 9/11 seared in my mind. On September 11, 2001, I was a New York City police detective and first responder. Because of my work on the rescue and recovery efforts at Ground Zero, I developed pulmonary fibrosis (PF) and am now an Ambassador for the Pulmonary Fibrosis Foundation (PFF).
I will never forget the horrifying destruction and terror in the faces of so many that day. People were running in panic and smoke was everywhere. It was as if a nuclear blast had detonated lower Manhattan. As the white and grey dust covered everything and continued to fall like snow for days and weeks, I said to my fellow officer, "this is not good. You know we are going to pay a price for this." Between trying to save people from the burning towers and debris and the aftermath of the attack, we lost thousands of police officers, firefighters and first responders.
Like Trying to Breathe Through a Straw
We continue to pay the price. Our exposure at the World Trade Center and our work in the aftermath has led to terrible diseases resulting in more lives lost. In 2015, I was diagnosed with pulmonary fibrosis after being treated for Hodgkin's lymphoma from the exposure. The medication used to treat my cancer caused a fire in my lungs and resulted in PF. Breathing while living with PF is like trying to breathe through a straw.
But, I would do it again tomorrow even knowing what would have happened - just as my fellow first responders from across the country and world come forth to help save lives in their jobs every day.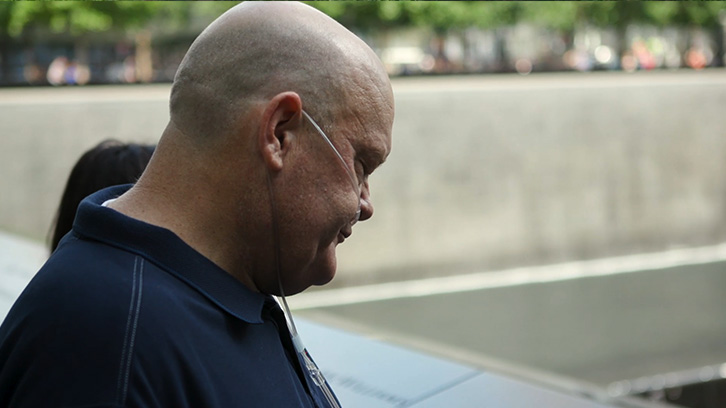 Honor First Responders
I ask you to honor the first responders we lost on 9/11. They ran into danger and made the ultimate sacrifice. A gift to the Pulmonary Fibrosis Foundation will help those of us who continue sharing our story and are still fighting to survive. We will never give up hope.
Your gift today will help patients and families, like mine, affected by this devastating disease by funding educational programs and research that will one day lead to a cure for pulmonary fibrosis.