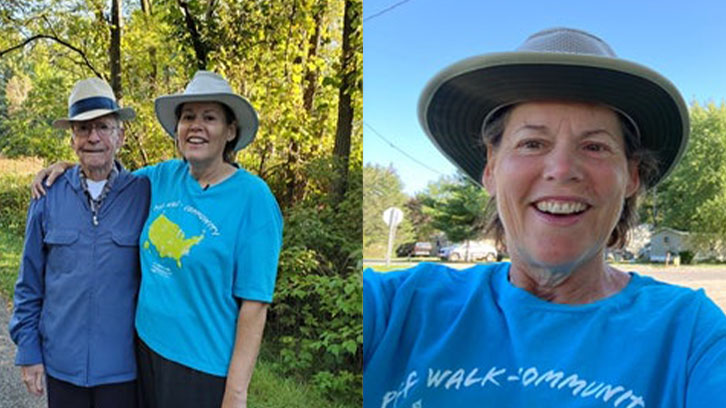 Mary's Journey
On September 15th, Team PFF Event Leader, Mary Hesch started her 1,440 mile walk to raise funds and awareness of PF. Mary's 99-day walking journey to honor her mother, who she lost to pulmonary fibrosis, started in Wisconsin and will end in Texas at the Gulf of Mexico.
This is her story
My name is Mary and I'm excited to share that I will be going on a journey. A journey for a life. A journey that has called me and speaks to my heart. A journey to honor the life of my mother, Mary E. Hesch, whose life was cut far too short on April 3, 1997 from idiopathic pulmonary fibrosis.
My mother was an amazing woman. She raised six children with love and kindness, and modeled a passion for life. She was an incredible mother. She loved walking. She loved traveling. She loved to read and work crossword puzzles. She loved making the holidays special with decoration and cheer, especially for Christmas. She was a fabulous gourmet cook. She was a devoted and loving wife. She had a mesmerizing and wonderful voice, performing powerful songs from weddings to funerals, from local radio shows to theater starring roles. She was simply an amazing human being. I have always been honored and touched to be named after my mother. I absolutely treasure and cherish being given the name Mary Hesch.
On September 15, 2021, I began a pilgrimage walk of 1,440 miles to honor the life of my mother. I started from my home in central Wisconsin and will end on December 30, 2021 in Port Aransas, Texas. This is where my mother's ashes were scattered in the ocean after her death. I will be joined by wonderful friends to help me on my walk. Clarence and Joan Dold will accompany me along the entire route. Also, my wife Paige will join me once a month along the route to help as well. I couldn't do this without their support! When I arrive I will be greeted and joined by my siblings, their families, my father, and his wife Lois for a 25-year anniversary and celebration of my mother's life.
My father remarried years after my mother's passing. It was my stepmom's daughter's idea to walk for charity. My stepmom then suggested that the charity could be for pulmonary fibrosis which caused my mother's death. I chose the Pulmonary Fibrosis Foundation. My journey is now bigger than life and has a bigger purpose. My journey could now help the life of others that are struggling with this disease. A disease with an unknown cause and no known cure.
I hope one day that changes.