What is Oxygen Therapy?
Oxygen is prescribed when oxygen levels go below about 88%. Your doctor may choose to measure your oxygen level in different circumstances: while sitting, while walking in the hallway or on a treadmill, and during sleep. If your oxygen level drops below about 88%, your doctor may prescribe supplemental oxygen to prevent your oxygen level from dropping further.
Oxygen Therapy Benefits
Many people report that they have less breathlessness and fatigue, and are better able to live an active lifestyle when using oxygen. When you use oxygen, you are doing something important for your health. In addition to reducing breathlessness and fatigue, supplemental oxygen can reduce stress on your organs. People living with PF and IPF can jog, work out, and play sports (with permission from their doctors) while using oxygen.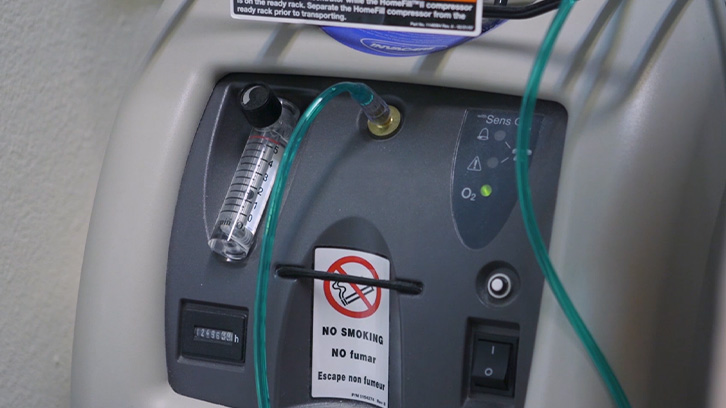 Using Oxygen Therapy
Using oxygen can be frustrating and inconvenient. We recommend that you talk openly with your doctors about your questions and concerns to identify the oxygen equipment that best meets your needs. Some people find it difficult to adjust to using oxygen, particularly when outside the home. But over time, most people living with pulmonary fibrosis and idiopathic pulmonary fibrosis find that the benefits of using oxygen greatly improve their quality of life.
Learn More About Oxygen Therapy
If you have questions regarding oxygen therapy you can call the PFF Oxygen Information Line at 844.825.5733. The PFF Oxygen Information Line can answer questions about topics like oxygen safety, types of oxygen systems, and traveling with oxygen.