September 15, 1936 –September 18, 2018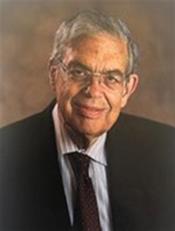 The pulmonary fibrosis community lost a trusted advisor and founding member of the Board of the Pulmonary Fibrosis Foundation with the passing of Joseph Borus of Denver, Colorado on September 18, 2018.

Borus' brother-in-law and former PFF Board chair, Dan Rose, said, "Joe was a man of great integrity who always provided good counsel. He was an active member of the PFF board and a wonderful family man."

Borus was a securities attorney who attended Williams College and Yale Law School. He graduated magna cum laude and was editor of the Yale Law Review. He lived and practiced law in New York until moving to Colorado in 1971.

Borus was married to Carolyn Rose Borus, whose family created the Pulmonary Fibrosis Foundation in 2000 after several family members were diagnosed with the disease. The Rose family experienced firsthand the devastating effects of PF.

Borus developed the initial by-laws and charter of the PFF. He served as secretary for several years and as a board member from 2000 – 2016.

Rose described Borus as a bright and hardworking attorney who was an integral part of the PFF. Borus introduced small bio-tech companies involved in PF research to the Foundation and also helped with fundraising.

Borus was devoted to his family. He was an avid reader, golfer and Denver Broncos fan.

He will be dearly missed by his wife, Carolyn, children, grandchildren, and many friends.

A memorial service was held in Denver on September 21, 2018.