INAUGURAL PFF WALK KICKS OFF PULMONARY FIBROSIS AWARENESS MONTH IN SEPTEMBER
FOR IMMEDIATE RELEASE

Contact: Dorothy Coyle
773-332-6201


INAUGURAL PFF WALK KICKS OFF PULMONARY FIBROSIS AWARENESS MONTH IN SEPTEMBER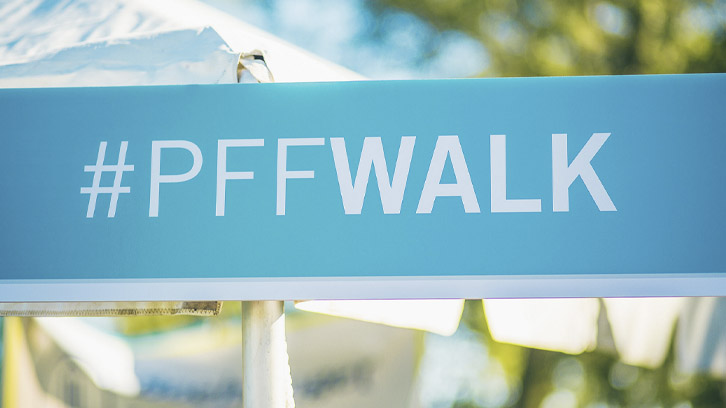 CHICAGO, August 1, 2017 – The Pulmonary Fibrosis Foundation (PFF) will launch its inaugural PFF Walk on Sept. 9 in Chicago's Lincoln Park to raise awareness and funds in its battle against the deadly lung disease, pulmonary fibrosis (PF). Virtual walks will be held nationwide as part of the observance of Pulmonary Fibrosis Awareness Month in September.

Pulmonary fibrosis is a group of devastating lung diseases that cause scarring in the lungs, which limits the oxygen intake necessary for the brain, heart, and other organs to function. PF affects 200,000 Americans and results in more than 40,000 deaths annually. Fifty-thousand new cases are diagnosed each year. There is no known cure.

George Eliades, Chairman of the PFF Board of Directors, announced that more than 400 individuals and 80 teams from Chicago and across the country have already registered and are raising money to help fund research for a cure. "Whether you walk or donate to an individual or team, your contribution is making a difference," he said.

More than half of the registered participants will travel to Chicago from out of state. Mark Maguire of McLean, Virginia, along with his wife, Linda, and daughters, Kate and Liz, formed the JacMagFamily Team. They have raised $5,798 toward their goal of $10,000. Mark has been diagnosed with familial pulmonary fibrosis and expects to soon be listed for a lung transplant. He hopes to have new lungs next year.

"My brother, my sister and I have all been diagnosed with pulmonary fibrosis," said Maguire. "My brother passed away from the disease. My sister received a double lung transplant last year and has had a challenging recovery but is finally home. Research will lead the way to a cure for this very difficult disease."

Participants have the option to walk one or three miles. They can join a team or register individually. Individuals who are unable to participate in the walk in-person can register for the virtual walk and complete the miles in a park or path near their homes.

The PFF has reserved a limited number of rooms at the Hotel Lincoln, 1816 N. Clark St., in Chicago. Reservations can be made through the PFF's group booking link.

In addition to the PFF Walk, Pulmonary Fibrosis Awareness Month features a social media campaign highlighting the disease and those affected by it. Members of the pulmonary fibrosis community are encouraged to wear blue and share images using the hashtag #BlueUp4PF throughout the month. The Wrigley Building in Chicago and the Parthenon in Nashville, Tenn. will feature blue lighting for Pulmonary Fibrosis Awareness Month.


###


About the Pulmonary Fibrosis Foundation
The Pulmonary Fibrosis Foundation mobilizes people and resources to provide access to high quality care and leads research for a cure so people with pulmonary fibrosis will live longer, healthier lives. The PFF collaborates with physicians, organizations, patients, and caregivers worldwide. The Pulmonary Fibrosis Foundation has a four-star rating from Charity Navigator and is a Better Business Bureau accredited charity. The PFF Summit 2017, its fourth biennial international health care conference will be held from November 9-11, 2017 in Nashville, Tennessee. For more information, visit pulmonaryfibrosis.org or call 844.TalkPFF (844.825.5733) or 312.587.9272 from outside of the U.S.