Join a Support Group on Zoom
Join a PFF support group on Zoom
The PFF hosts four monthly Zoom support groups for anyone who is affected by pulmonary fibrosis. If you are not able to attend an in-person group, or simply want more opportunities for support between meetings, consider joining one of the PFF's monthly support group calls.

All groups offer the PF community a valuable forum to share information and provide support to one another from the comfort of their own home. Registration is not required to participate, and call-in information and meeting times are the same each month.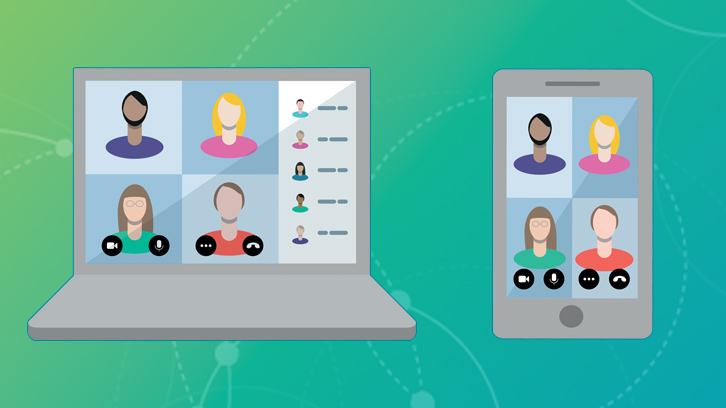 PFF support groups on Zoom

PFF Voices offers a chance to learn from healthcare providers and discuss topics and concerns related to the disease. This group meets on the third Thursday of every month at 1:00 p.m.
PFF Caring Conversations is specifically for those caring for individuals with PF and gives participants the opportunity to share experiences and information related to their caregiving role. This group meets on the first Tuesday of every month at 1:00 p.m.

PFF Lung Transplant Community Support Group is intended for those who have had, or are awaiting, a lung transplant due to pulmonary fibrosis. This group provides an opportunity for discussion and dialogue around transplant-related challenges and celebrations. Meetings feature guest speakers as well as an open forum approach. This group meets on the fourth Tuesday of every month at 1:00 p.m.
PFF Coloquio es un grupo de apoyo para los que son afectados de la fibrosis pulmonar. Este grupo da espacio para discutir temas y preocupación relacionado con la fibrosis pulmonar. Un grupo de apoyo que se reúne cada segundo martes de cada mes a la 1:00 p.m. CT. El grupo de apoyo PFF Coloquio no se reúne actualmente. Por favor, vuelva a consultar en la primavera.
How to join
To join a PFF virtual support group meeting via Zoom, click the button below on your computer or smartphone, or call one of the telephone numbers provided, at or just prior to 1:00 p.m. CT on the scheduled day:

Meeting ID: 898 3066 3004
You may also dial in by phone:

+1 312 626 6799 US (Chicago)
+1 301 715 8592 US (Washington DC)
+1 929 436 2866 US (New York)
+1 346 248 7799 US (Houston)
+1 669 900 6833 US (San Jose)
+1 253 215 8782 US (Tacoma)
+1 647 374 4685 CAN (Toronto)
Interested in joining a local support group?
Local support groups are led by volunteers who may be patients, caregivers, family, healthcare providers, or other members of the pulmonary fibrosis community.
Some groups are meeting virtually, while other groups have resumed in person meetings.