Meet Your PF Care Team: Max Whitehead-Zimmers, BA
September 28, 2021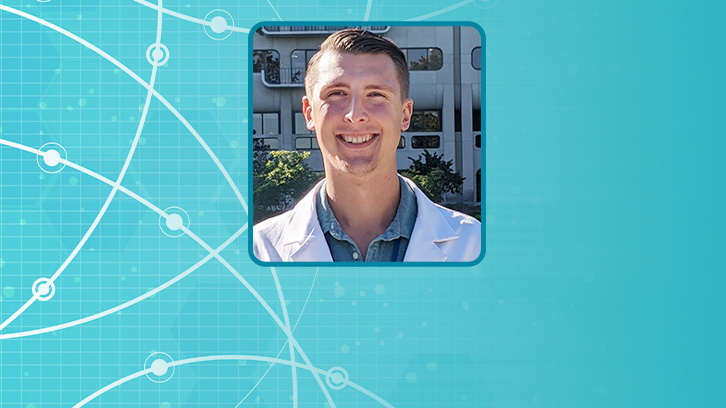 The care teams at our PFF Care Center Network (CCN) sites are made up of many different healthcare professionals, each with an important role to play in running the center and caring for patients. To help you understand how your care team works, we'll be starting a series of posts introducing members of the pulmonary fibrosis (PF) care team. We'll do this by highlighting team members from Care Center Network sites across the country and letting you tag along with them as they go about their day. Follow us on Facebook or Instagram to get a peek into their daily routines on the job.
Max Whitehead-Zimmers is a Human Research Technologist at the Penn State College of Medicine in the Division of Pulmonary, Allergy and Critical Care located at the Penn State Health Milton S. Hershey Medical Center in Hershey, Pennsylvania. As a college student at Messiah College (now Messiah University) in Mechanicsburg, Pennsylvania, Max studied Peace and Conflict Studies and Social Sciences and gained experience in the area of community relations. Upon graduation, Max thought that his experience with qualitative social science research could translate into the medical research field and in 2017 joined the Penn State College of Medicine as a Human Research Technologist. Additionally, he finds that the experience he gained through his undergraduate studies remains helpful while leading both The Hershey Pulmonary Fibrosis Support Group and The Hershey Pulmonary Fibrosis Care Partner Support Group.
Max is passionate about working with and learning from pulmonary fibrosis patients and care partners. Seeing how this disease affects patients and care partners on a day-to-day basis is what motivates him to move forward with his work. Max currently manages two different clinical trials and sees two to three patients per week for study visits. Max works under Dr. Rebecca Bascom, Care Center Director for the PFF Registry, several investigator-initiated studies, and support group logistics and activities. Max greatly appreciates the superb research support team that makes it possible to perform the clinical trials that he manages. Max's goal is to help as many pulmonary fibrosis patients and care partners as possible.
Max's favorite part of his job is getting to work with pulmonary fibrosis patients and their care partners; he truly feels that they are an inspiration to us all. When he's not at work, you can find Max spending time with his family and friends. He enjoys cooking and watching the Pittsburgh Steelers during football season.