Thank you for your support of the PFF Walk - Bay Area!
A heartfelt thank you to everyone who walked, fundraised, and donated to the PFF Walk - Bay Area on Saturday, September 9! Because of your commitment, we are able to accelerate research, advance improved care for those living with the disease, and provide unequaled support and education resources for patients, caregivers, family members, and health care providers. Together, we are taking steps toward a cure.
You can help us cross the finish line and reach our goal! Make a donation to the PFF Walk today!
Fundraising pages will remain active until the end of the year. Post-Walk is a great time to update your page with photos from the Walk and thank your donors!
PFF Walk Incentive Program
As a thank you for raising funds and awareness, all registered walkers can earn PFF-branded items! After individual fundraising is tallied post-Walk, participants will receive information about their gift level and how to redeem their item.
Fundraising pages will remain active through the end of the year and prizes can be redeemed through December 31, 2023! To check your fundraising totals and see what you qualify for, please log in to your fundraising dashboard!
Eligible fundraisers will receive a redemption email with instructions on how to claim their prize. If you have questions or need more information, please send us an email at PFFWalk@pulmonaryfibrosis.org.
Please note: Thank you gifts are determined by individual fundraising totals. All PFF Walk participants who register and raise funds are eligible to redeem a gift from their highest level achieved (or under). Team fundraising totals and non-registered donors do not qualify for this program. The PFF reserves the right to substitute a gift of equal or greater value or to change the gifts at any time.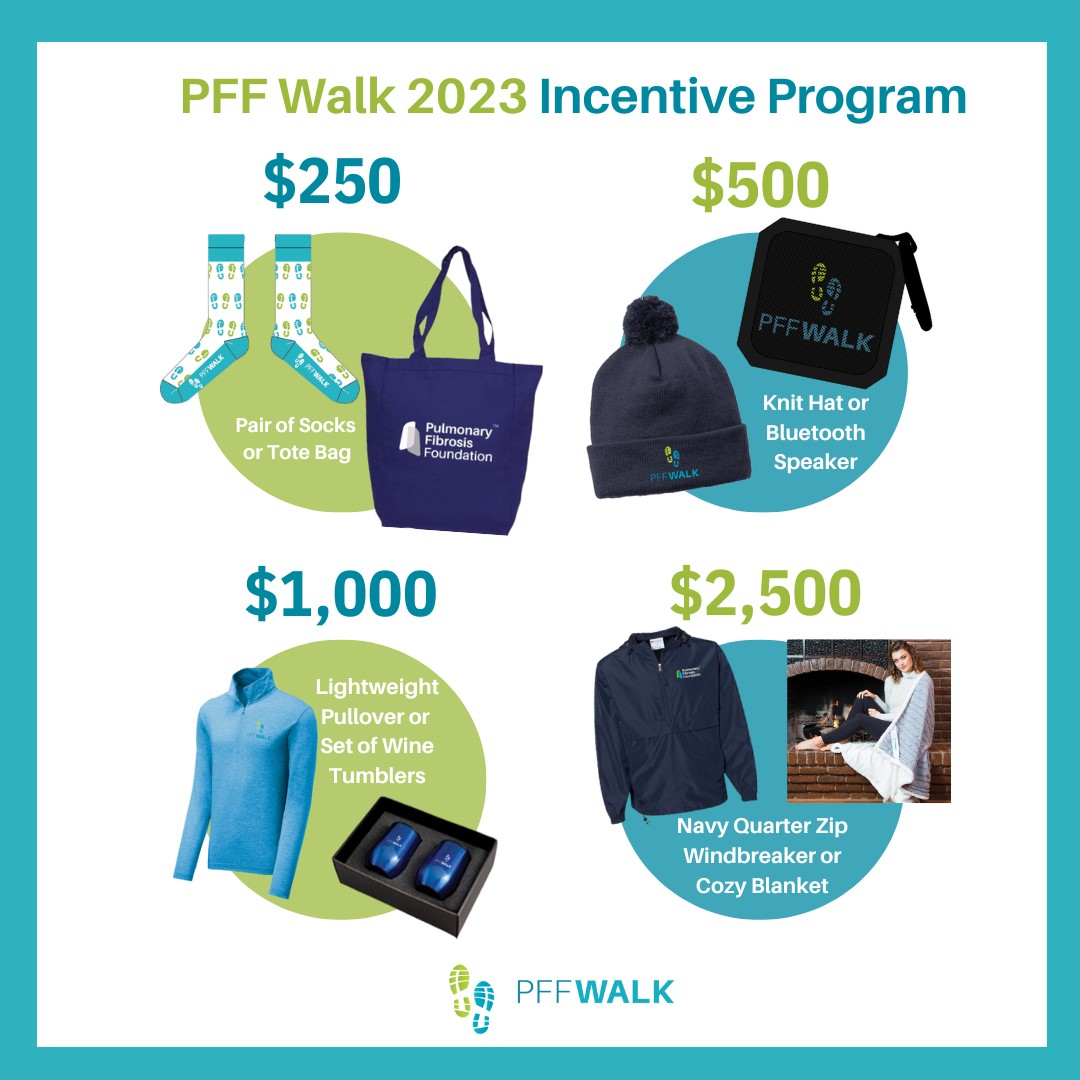 Fundraising Resources
Use these tools and resources to get started and to guide your fundraising campaign to success! Our materials include the PFF Walker Guide, the Team Leader Guide, and our Mission Video.