PFF Names Dr. Franck Rahaghi New President, CEO and Chief Medical Officer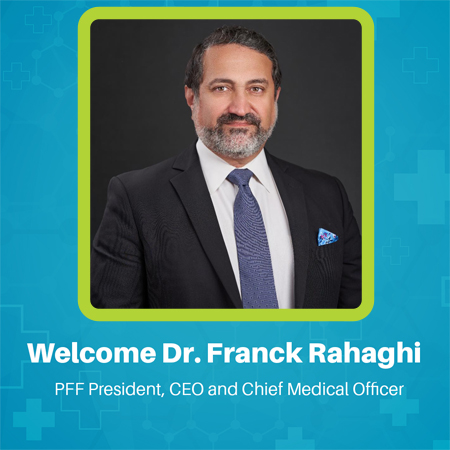 The Pulmonary Fibrosis Foundation (PFF) today announced Franck Rahaghi, MD, MHS, FCCP, as its incoming President, Chief Executive Officer and Chief Medical Officer, effective September 15. Following an extensive search, Dr. Rahaghi was selected based on his long-time commitment to care, research, and education in interstitial lung disease (ILD) and pulmonary fibrosis (PF). He will serve in an expanded role as President, CEO and Chief Medical Officer for the PFF.
Dr. Rahaghi's extensive expertise in ILD led him to his latest role as Director of the Interstitial Lung Disease Program at the Cleveland Clinic Florida, a member of the PFF Care Center Network (CCN). In 2003, he joined the medical center as Staff Attending in Pulmonary Critical Care and Director of the Pulmonary Hypertension Clinic. He became Chairman of the Department of Pulmonary and Critical Care in 2015 and will continue his academic involvements at the Cleveland Clinic Florida.
"I am excited to lead the Pulmonary Fibrosis Foundation - I believe I have been preparing for this my whole life," said Dr. Rahaghi. "I look forward to working with the PFF Board, staff and the entire community to create a world where these devastating diseases no longer exist."
Over the past 15 years, Dr. Rahaghi has been involved with multiple clinical trials for pulmonary fibrosis and pulmonary hypertension. Dr. Rahaghi has authored 48 peer reviewed publications and has published 49 abstracts. He is a Clinical Professor of Medicine at the Cleveland Clinic Lerner College of Medicine.
"Franck Rahaghi is an exceptional pulmonologist and researcher who has led our Care Center site at the Cleveland Clinic Florida and has partnered with the CCN on multiple initiatives," said David McNinch, Chairman of the PFF Board of Directors. "He brings a depth of experience working with key stakeholders of industry, government and academia with a sole focus of improving patient outcomes. We believe that Franck's skill set will help us make great strides toward our goals of optimal patient care and rapid development of new therapies for interstitial lung disease."
Dr. Rahaghi is board certified in pulmonary medicine and critical care medicine. He is a graduate of the University of California at San Diego (B.S. in Biomedical Engineering), the University of California at Berkeley (M.H.S. in Health Policy and Finance), and the University of California at San Francisco (Doctor of Medicine Degree). He completed his training in internal medicine at the University of Minnesota and University of Illinois at Chicago. Dr. Rahaghi did his fellowship in pulmonary and critical care at Weill Cornell Medical Center in New York. He is a member of the American Thoracic Society, American College of Chest Physicians, Pulmonary Hypertension Association, and several other professional organizations.
Dr. Rahaghi succeeds Bill Schmidt, former President and CEO of the PFF, and Dr. Joseph Lasky, the Foundation's former Chief Medical Officer. Schmidt and Lasky will continue to serve the PFF as consultants.
About the Pulmonary Fibrosis Foundation
The mission of the Pulmonary Fibrosis Foundation is to accelerate the development of new treatments and ultimately a cure for pulmonary fibrosis. Until this goal is achieved, the PFF is committed to advancing improved care of patients with PF and providing unequaled support and education resources for patients, caregivers, family members, and health care providers. The PFF has a three-star rating from Charity Navigator and is an accredited charity by the Better Business Bureau (BBB) Wise Giving Alliance. The Foundation has met all of the requirements of the National Health Council Standards of Excellence Certification Program® and has earned the Guidestar Platinum Seal of Transparency. For more information, visit pulmonaryfibrosis.org or call 844.TalkPFF (844.825.5733).